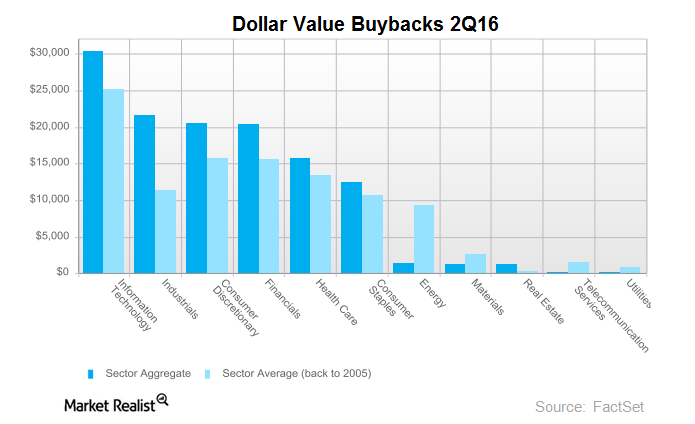 Why Oracle's Buyback and Dividend Trend Will Likely Run into 2017
Share buybacks and dividends trend in the tech sector
Like IBM (IBM), Oracle (ORCL) aims to lure investors through share buybacks and dividends. Despite a consistent decline in revenue growth, IBM has increased its dividend payment for 21 straight years. IBM's dividend yield could explain Warren Buffett's and Berkshire Hathaway's interest in IBM. With an 8.3% stake in IBM, Berkshire Hathaway is IBM's largest shareholder.
Oracle and IBM are clearly focusing on dividends because many of their investors and shareholders view dividends as steady income—especially in the current scenario of increasing uncertainty and volatility.

Article continues below advertisement
Trump's cash repatriation plan and Oracle's buyback activity
According to a recent Goldman Sachs (GS) report, stock buybacks will soon account for the greatest share of cash used by S&P 500 companies for the second time in 20 years. The same report stated that companies are expected to spend a total of $2.6 trillion in 2017, of which 48% will make its way to shareholders in the form of buybacks and dividends. The remaining~52% will be invested in growth in the form of research and development, capital expenditures, and mergers and acquisitions.
Oracle is one of the top five tech companies—alongside Apple (AAPL), Microsoft (MSFT), Google (GOOG), Cisco Systems (CSCO), and Oracle (ORCL)—that has billions of corporate cash overseas. This means that Oracle investors are likely to be rewarded by stock repurchases. According to FactSet, in the trailing-12-month period, Apple, Microsoft, and Oracle were among the top ten companies to spend the most on stock buybacks.
Continue to the next part of this series for a look at why Oracle will likely keep buying companies in 2017.