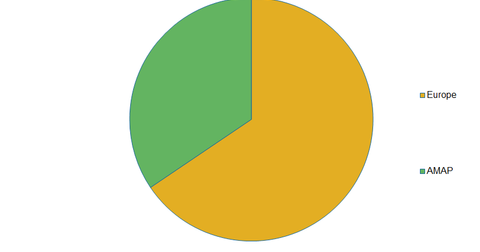 Europe Is Still the Most Important Market for Vodafone
By Ambrish Shah

Dec. 20 2016, Published 3:04 p.m. ET
Vodafone's global operations
Vodafone (VOD) operates nearly globally, providing a range of telecommunications (telecom) services centered on mobile technology to more than 483.7 million mobile and fixed broadband customers around the world.
The diversification of Vodafone's asset portfolio is currently providing it with an advantage. Continued improvement in the company's European division is being supplemented by consistent mid- to high single-digit growth in the AMAP (Africa, the Middle East, and the Asia-Pacific) region.
Vodafone has its operations diversified across several geographies. As you can see in the pie chart above, a dominant portion of Vodafone's EBITDA (earnings before interest, tax, depreciation, and amortization) was generated from its European operations in fiscal 1H17.
In the European region, Vodafone generated an EBITDA of ~5.3 billion euros in fiscal 1H17. Meanwhile, this metric for the AMAP region was ~2.8 billion euros.
Germany (EWG), Italy, the United Kingdom, and Spain made up ~80.4% of the EBITDA from the company's European segment in fiscal 1H17.
Meanwhile, contributions from India and Vodacom made up ~66.2% of the EBITDA in Vodafone's AMAP segment in fiscal 1H17. Vodacom is an African mobile communications company. It's 65% owned and controlled by Vodafone.
Article continues below advertisement
Vodafone's scale among its global telecom peers
On December 19, 2016, Vodafone was the fourth-largest global telecom company. It had a market capitalization of ~$67.3 billion in terms of market capitalization.
On the same date, the largest global telecom company in terms of market capitalization was AT&T (T) with a market capitalization of ~$258.7 billion. The second-largest player was Verizon (VZ), and the third-largest player was China Mobile (CHL).