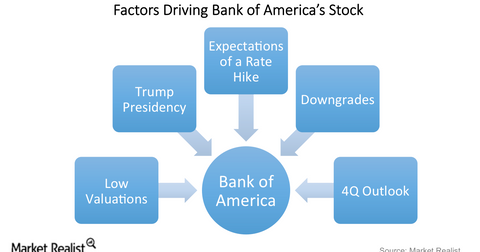 What Factors Are Driving Bank of America's Stock Price?
By Rebecca Keats

Updated
Expectations of an interest rate hike
Bank of America stock has risen 23% in November and has outperformed its peers. In this series, we'll look at the key drivers behind BAC's rally.
As December 14 approaches, investors are getting anxious to know whether the Federal Reserve will raise its policy rates. Bank stocks (XLF) are generally volatile ahead of FOMC meetings, as investors become nervous about what the Fed will eventually decide. Bank of America, like most other banks, stands to benefit from an interest rate hike. BAC's income is far more sensitive to interest rates than its peers Wells Fargo (WFC), JPMorgan (JPM), and Citigroup (C).
Article continues below advertisement
Trump's win
Banking regulations like the Dodd-Frank Act and stress tests meant to safeguard the broader economy have limited Bank of America's capital return plans. If Trump is able to relax such regulations, Bank of America would be able to hike its dividends to 4% and repurchase 5%–7% of its shares with its earnings. Further, relaxation of such rules also means the bank would benefit from lower legal expenses.
4Q outlook
Bank of America is expected to report double-digit growth in fourth quarter trading revenues on higher volumes after the US presidential election. At an investor conference in November, cChief operating officer Tom Montag said that heightened volatility after the surprising Trump victory will help trading desks at Bank of America. Client trading volumes both in Japan and New York were higher than usual during the election.
Article continues below advertisement
Downgrades
Bank of America was downgraded by three analysts amid a rally in bank stocks in November. Analysts believe the bank's shares are no longer as cheap as they were before the post-election surge.
Low valuations
Bank of America stock trades at a discount to its book value. Most of its peers like JP Morgan (JPM), Wells Fargo (WFC), and Goldman Sachs (GS) trade between one to two times their book values. Prospects of a rate hike in December are driving its stock price upwards.
In the following parts of this series, we'll discuss these growth drivers in detail.