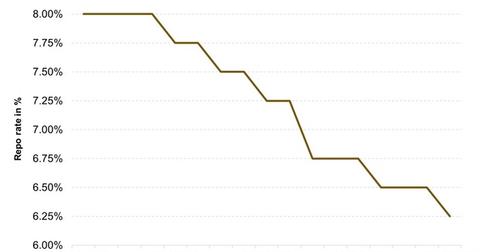 RBI Cut the Repo Rate: Will More Rate Cuts Follow?
By David Ashworth

Updated
Repo rate cut
In its last policy meeting on October 4, the RBI's (Reserve Bank of India) Monetary Policy Committee reduced the country's repo rate by 25 basis points on October 4, 2016. The rate reduced 6.3% from the said date. The October meeting marked the second rate cut in 2016. The combined quantum of the cuts for the year stands at 50 basis points.
The repo rate, or repurchase option rate, is the key monetary policy rate for the RBI. It's the rate at which the RBI lends to commercial banks. The reverse of the repo rate—the rate at which banks park money with the central bank—is known as the "reverse repo rate."
Article continues below advertisement
A change in the repo rate signals an increase or decrease in rates to commercial banks (IBN) (HDB). Other rates, like the reverse repo rate and the MSF (marginal standing facility), are fixed against the repo rate. The rate impacts the movement of the rupee, which impacts the revenue of exporters and tech companies (WIT). It feeds into India-focused funds (ETGIX) (INDA) as well.
More rate cuts to follow
With the announcement of demonetization and the subsequent impact on cash transactions and consumption, inflation will likely fall. Banks already started reducing their deposit rates. Lending rates are expected to fall as well. Due to the expected fall in inflation, the RBI will likely undertake more cuts in the repo rate.
These rate cuts will aim to boost consumption. They will work to get the temporarily derailed economic growth back on track. A cut in interest rates boosts economic activity and raises hopes that after a lull for two to three quarters, economic growth will rise.
In the next part, let's take a closer look at how demonetization can impact interest rates in the financial system.