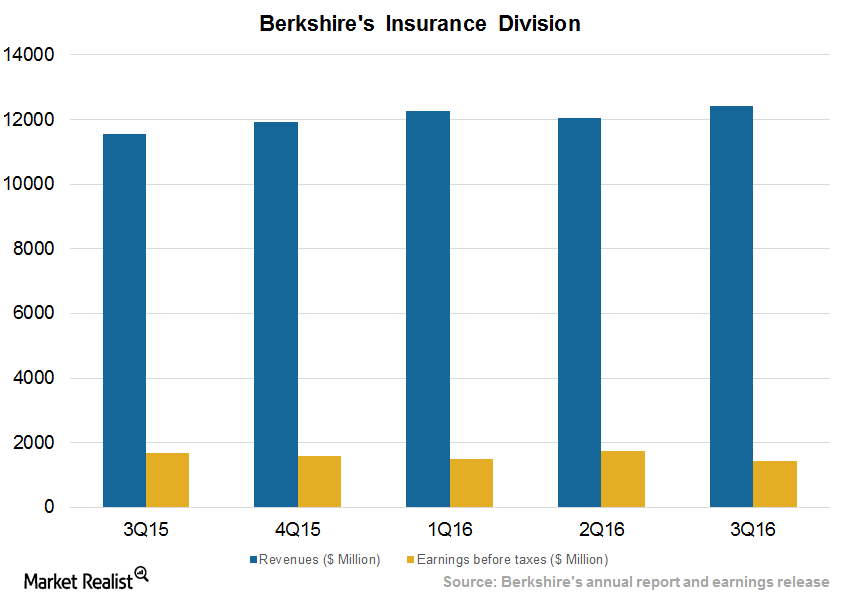 Berkshire's Insurance Falls on Reinsurance and GEICO in 3Q
Insurance underwriting declines
Berkshire Hathaway (BRK-B) saw underwriting revenues rise on a year-over-year basis in 3Q16 to $12.4 billion. However, the division's earnings before taxes fell to $1.4 billion as compared to $1.7 billion in the prior-year quarter on reinsurance and GEICO.
In 3Q, Berkshire's earnings before taxes improved in the General Reinsurance and Berkshire Hathaway Primary Group. Its investment income fell marginally to $1,029 million as compared to $1,045 million in 3Q15.
Article continues below advertisement
GEICO
Berkshire's GEICO saw a rise in premium written of 13.6% to $7 billion mainly due to growth in voluntary auto policies. The division saw higher losses, loss adjustment expenses, and underwriting expenses, which resulted in lower earnings before taxes. Its loss ratio rose by two percentage points, mainly due to storm losses and severe claims, partially offset by premium rate increases.
Berkshire grew its book value by 3.3% in the previous financial year. In comparison, its peers including American International Group (AIG) rose 2.7%, whereas MetLife's (MET) book value fell 3%, and Allstate's (ALL) book value appreciated 13%. Together, these companies make up 6.8% of the Financial Select Sector SPDR ETF (XLF).
Reinsurance business
Berkshire's reinsurance business continues to post dismal numbers on competition, higher claims, and expenses. The division saw revenues fall marginally to $1,872 million as compared to $1,892 million in 3Q15. The net declined substantially on higher catastrophe losses. The property and casualty reinsurance saw a loss of $86 million due to an explosion in Tianjin, China.
Berkshire maintains a decent amount of capital in order to write huge reinsurance contracts. Its statutory surplus for insurance business was $124 billion as of December 31, 2015. The higher surplus enables Berkshire to write large-scale reinsurance contracts for better premiums. Berkshire's underwriting decisions are undertaken by unit managers. However, its investing decisions are undertaken mainly by Warren Buffett.
Continue to the next part for a look at the performance of BNSF Railway Company.