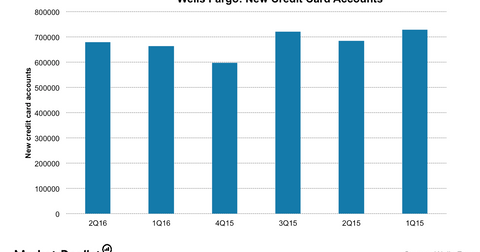 How Bad Is the Fallout from Wells Fargo's Fake Account Scandal?
By Rebecca Keats

Updated
Grim outlook after recent controversies
In September 2016, Wells Fargo (WFC) was slapped with the largest fine ever by the Consumer Financial Protection Bureau (or CFPB). Wells Fargo was asked to pay $185 million as a settlement with regulators and the company's CEO, John Stump, had to step down.
US banks (XLF) with large consumer-centric businesses such as JPMorgan Chase (JPM), Bank of America (BAC), and Citigroup (C) are also in the spotlight after news of the scandal broke out. Shares of Wells Fargo have fallen 12% in the last month.
Article continues below advertisement
Likely fallout
Wells Fargo (WFC) has already faced several investigations and the imposition of fines. Additionally, several large clients have pulled back business, and the potential financial impact is expected to be much greater going forward.
"We're prepared for things to get worse before they get better," the company's new CEO, Tim Sloan, stated during the third quarter earnings call.
News of this scandal broke in the last month of the third quarter and peaked by the time the quarter was almost over. The fourth quarter should give investors a better picture of the potential damage.
However, in the last month of the quarter, customer visits declined and account openings and credit card applications were significantly lower as well. The $185 million penalty may not appear to be as a big number for a bank as large as Wells Fargo.
However, litigation expenses are expected to keep mounting, as Wells Fargo will need to pay more fines and settlements as the investigation continues. In the event the bank is required to change its cross-selling practices, its revenue growth and earnings would be impacted.