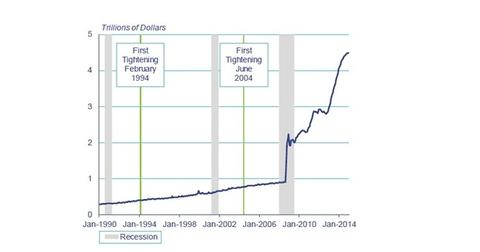 Why Does the September 2016 Dissent in the FOMC Matter?
By David Ashworth

Updated
Dissents not uncommon
For the most part of the monetary policy accommodation since the taper tantrum of 2013, policymakers have been nearly unanimous about keeping policy rates at the zero-lower bound. Their votes in the FOMC (Federal Open Market Committee) policy meeting and their speeches have reflected their unanimity.
However, this is not to say that dissents at the FOMC are uncommon. Esther George, Kansas City Fed chief, has been dissenting against the status quo on interest rates for a while. The September meeting was the fourth in which she supported a rate increase. But this time, she was joined by Cleveland Fed chief, Loretta Mester, and Boston Fed chief, Eric Rosengren. On the 7–3 vote, Bloomberg noted, "The committee's split marked only the fourth time since 1992 that three FOMC voters broke ranks with a majority decision."
Article continues below advertisement
Why Eric Rosengren's dissent matters
Eric Rosengren is generally considered to be a dove, meaning that he has favored monetary accommodation in the US. On the other hand, Mester is considered to be a hawk and has favored a tighter monetary policy stance.
In his speeches in 2015, Rosengren said he wanted the labor market to firm up further before the FOMC considered raising rates. He also noted that the size of the Fed's balance sheet also presented problems for the central bank when effecting policy normalization. In his presentation to the American Economic Association in January 2015, he said, "the Federal Reserve will need to carefully balance how quickly to normalize short-term rates versus how quickly to normalize its balance sheet – a problem not faced during the two previous periods of monetary policy tightening."
Rosengren seems to be turning hawkish because he thinks that ensuring full employment would require some monetary tightening. His shift shows that the general mood in the FOMC may be changing, and a rate hike may be close.
Though equities (IVV) (IVW) have taken a hawkish stance, it remains to be seen whether this optimism continues. A rate hike will also alter plans of bond issuance in the primary market. In recent times, the Bank of Montreal (BMO), the Coca-Cola Company (KO), and Citigroup (C), among others, have issued sizable bonds in the primary market in anticipation of a rise in interest rates.
In the next article, let's see how financial markets have reacted to the rate hike status quo in September.