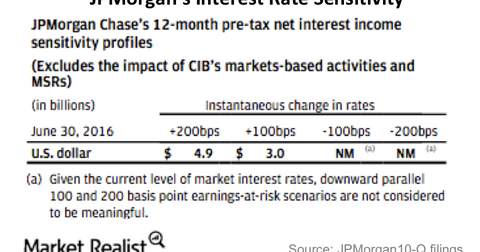 How JPMorgan Chase Stands to Benefit from Higher Interest Rates
By Rebecca Keats

Updated
JPMorgan Chase's interest rate sensitivity
A 100-basis-point parallel increase in short-term and long-term interest rates would boost JPMorgan Chase's (JPM) pre-tax net interest income by $3 billion. The company's latest 10-Q filing illustrates this high sensitivity of the bank's balance sheet to interest rates.
As seen in the table, a 200-basis-point increase in interest rates would add $4.9 billion to JPM's interest income, while a 100-basis-point rise would add $3 billion. Meanwhile, a steepening yield curve, which implies constant short-term rates, with a 100-basis-point rise in long-term rates would result in a $700 million rise in net interest income.
Article continues below advertisement
For this reason, JPMorgan stands to benefit from higher interest rates as this would lead to reinvesting assets at higher yields and re-pricing them at a faster pace than deposits. In 2Q16, JPM had a loan portfolio worth $872 billion. By comparison, Bank of America (BAC) had a loan portfolio of $903 billion, while Wells Fargo (WFC) and Citigroup (C) had loans of $951 billion and $592 billion, respectively.
Brexit and the global economy
In June, the UK voted to exit the European Union, which sparked volatility in financial markets and led the IMF (International Monetary Fund) to cut growth forecasts for the global economy.
These factors have led to a deterioration in the outlook for future interest rate hikes, and so interest rates will likely be low for longer, which translates to squeezed net interest margins for banks. Remember, higher interest rates lead to higher net interest income for banks (XLF), resulting in higher profitability margins. But the US Fed has retreated from its expected interest rate hikes, and this has led to further margin pressures.
Now let's move to Wells Fargo.