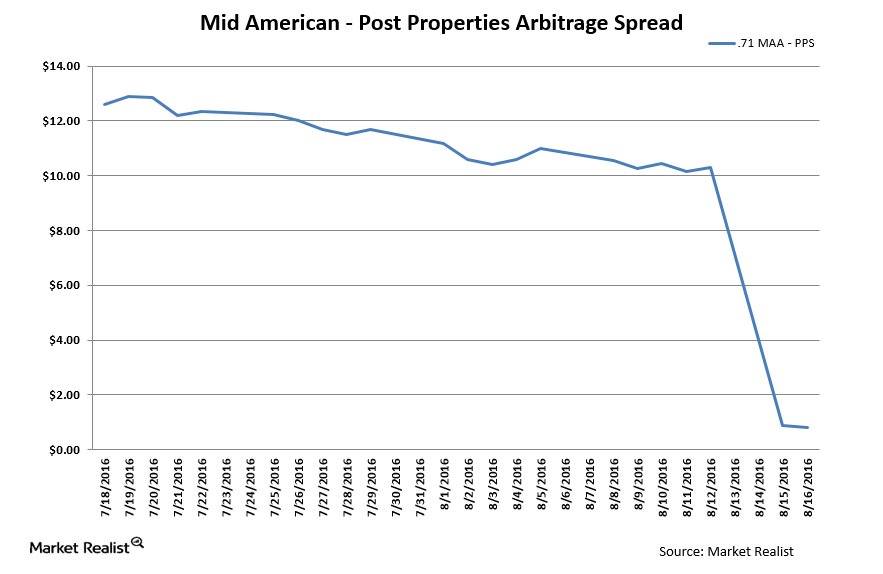 What's the Downside in the Post Properties and Mid-America Deal?
By Brent Nyitray, CFA, MBA

Aug. 18 2020, Updated 6:18 a.m. ET
Scenario analysis 
In the risk arbitrage world, a 2.8% expected return is about typical in this interest rate environment. If anything, arbs might be building in some possibility of a topping bid.
Professional arbitrageurs have been licking their wounds lately after the breakup of deals such as Pfizer-Allergan, Baker Hughes-Halliburton, and Staples-Office Depot. When strategies such as merger arbitrage have bad months, hedge funds and funds of funds allocate capital out of that strategy into other strategies. This causes spreads to widen as arbitrageurs reduce their exposures.
Article continues below advertisement
Downside if the deal breaks
Post Properties (PPS) was trading at ~$62 per share before the deal with Mid-America (MAA) was announced. If the deal breaks, does the stock price return to those levels? That's probably a good bet, depending on why the deal broke. If it's due to a material adverse change out of Post Properties, then that level is probably optimistic. Note that Mid-America stock got slammed on the deal. It lost about 8% since the deal was announced.
Take a look at the above graph and imagine that you're short the spread, which is trading at $0.81. If the deal closes as advertised, you'll make your $0.81. If the deal breaks, the spread will blow out to $10.30. So, your potential return is $0.81 and your risk is $10.30-$0.81 or $9.50.
The risk-reward ratio is $9.50-$0.81 or about 12:1, which is about right for a lower-risk transaction.
Other merger arbitrage resources