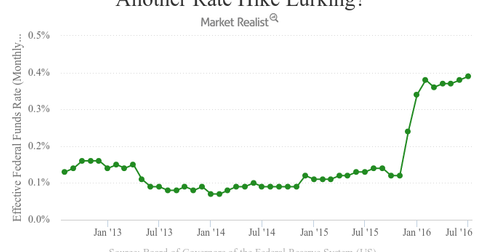 Were the July 2016 FOMC Meeting Minutes Hawkish or Dovish?
By David Ashworth

Updated
A rate hike is still on the table for 2016 
July's FOMC (Federal Open Market Committee) meeting minutes kept a rate hike in 2016 on the table. However, there was a clear divergence among policymakers regarding the timing of the next rate hike. Even with the labor market experiencing a scare in May and non-residential business spending remaining subdued, policymakers seemed cautiously optimistic about economic activity and unemployment, according to the meeting minutes.
[marketrealist-chart id=1559182]
Article continues below advertisement
A couple of members want to be absolutely sure that inflation is on a sustained path towards their 2% mandate before further increasing interest rates. There were a few members who viewed economic conditions much more positively, leading them to hint that a rate hike may just be around the corner. Banks and financials (AIG) (USB) (WFC) will follow this debate carefully.
The meeting minutes stated, "One member preferred to raise the target range for the federal funds rate at the current meeting." This member was not only quite optimistic about the domestic economy, but the member also said, "the easing of financial conditions" after the Brexit decision was a reason to raise rates immediately.
Hawkish or dovish?
On their own, the July FOMC meeting minutes were relatively hawkish. However, recent statements from FOMC members regarding the next rate hike paint a different picture.
New York Fed chief William Dudley, who is considered a close confidant of Fed chief Janet Yellen, has been quite aggressive in regards to the next rate hike, hinting that it could come as early as September. Dennis Lockhart, Atlanta Fed chief, though not quite as aggressive, still has been quite vocal about at least one rate hike in 2016.
In light of the above and similar comments, it seems that the July meeting minutes were a bit milder. They did leave the possibility of a rate hike open, but continued pointing to the data-driven stance of the Federal Reserve in regard to the timing of the rate hike.
We'll review the July meeting minutes in greater detail and also see how stocks (VOO) (RSP) and bonds reacted to the release and what it could mean for monetary policy going forward.