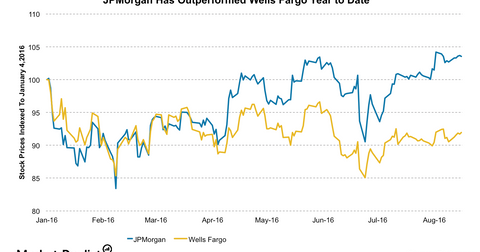 JPMorgan Chase or Wells Fargo—Which Is a Better Bet?
By Rebecca Keats

Aug. 24 2016, Updated 7:04 a.m. ET
JPMorgan Chase or Wells Fargo?
JPMorgan Chase (JPM) and Wells Fargo (WFC) have come a long way from the financial crisis of 2008, providing handsome returns to investors who have stayed invested in these bank stocks. Both banks (XLF) have generated steady profits in the last few years and have strengthened their capital.
JPMorgan Chase and Wells Fargo have opportunities to deliver good value to shareholders and to produce long-term growth.
However, we have recently seen JPMorgan Chase being downgraded by three major brokerages: Citigroup (C), Bernstein, and Deutsche Bank (DB). It seems investors are lowering their preference for JPMorgan Chase and are moving toward other banks like Wells Fargo and Bank of America.
Wells Fargo pays better dividends than JPMorgan Chase and has a simpler business model, thereby making it less risky. Shares of JPMorgan Chase have lost 1% year-to-date, while Wells Fargo is down by 11.4%.
Article continues below advertisement
Operating performance
Wells Fargo's operating performance is better than JPMorgan Chase's. The market recognizes this, pricing Wells Fargo at a premium price and JPMorgan Chase at a discount. Using the price-to-book value ratio, Wells Fargo trades at 1.4x its book value, compared to JPMorgan Chase's 1.1x.
Wells Fargo has been considered the strongest among the big banks in the United States for its ability to recover from the financial crisis, its low-risk business model, and its consistent financial performance. Further, Wells Fargo has higher margins, pays high dividend yields, and is more US-centric than JPMorgan Chase.
Series overview
In this series, we'll compare JPMorgan Chase and Wells Fargo on the basis of their profitability, interest rate sensitivity, and various lines of business. We'll also look at their valuations, dividend paying capability, and analysts' ratings.