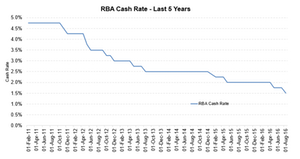 Australian Dollar Rose despite the RBA's Monetary Easing Measures
RBA cuts rate by 25 bps
The RBA (Reserve Bank of Australia) cut the cash rate by 25 basis points to a record low of 1.5% in the monetary policy meeting on Tuesday. The easing in the monetary policy was the second this year. It cut the rates in May due to low inflation growth in the Australian economy.
The primary reasons leading to the cut in the cash rate by the RBA are:
Sluggish growth in the global economy lowered demand across emerging markets. Even though policymakers in China have been implementing policies to speed up the growth, the economy has been showing a moderate increase.
Even though commodity and crude prices have been picking up, the trade terms in the country have been deteriorating.
Large declines have been seen in the investment portfolio—this suggests moderate returns.
Funding costs are kept low across global central banks as they keep an accomodative stance.
Article continues below advertisement
Australian dollar rebound after an initial fall
Ideally, the Australian dollar should have fallen sharply after the rate cut announcement. However, markets failed to react in the manner that the RBA hoped. After the initial fall below 0.75 resistance levels, the Australian dollar staged a strong bounce back to end the day above 0.76 levels.
The move against the RBA's expectations was widely attributed to the lack of strong forward guidance by the RBA on possible future rate cuts. It would also be partly due to the recent data releases that show that the economy remains relatively strong.
Impact on the market
Australian ETFs were trading on a negative bias on August 2, 2016, after the monetary policy. The iShares MSCI Australia Index Fund ETF (EWA) fell by 0.10%. Meanwhile, the CurrencyShares Australian Dollar Trust ETF (FXA) followed a similar trajectory to the Australian dollar. It rose by 1.0%.
Australian ADRs (American depositary receipt) trading on US markets were also trading on a mixed bias. BHP Billiton (BHP) was nearly flat with a slight fall of 0.07%. In the mining sector, British-Australian multinational Rio Tinto (RIO) rose by 0.34%. Australian banking ADR Westpac Banking (WBK) was also trading on a negative bias. It fell by 0.26% on August 2, 2016.