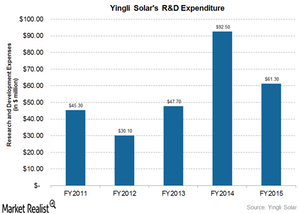 How Yingli Solar Hit Record-High Conversion Efficiency in 2015
By Sheldon Krieger

Updated
Conversion efficiency
Conversion efficiency refers to the efficiency of a solar module to convert energy from the sun into electricity. The higher the conversion efficiency, the lower the amount of material required to make solar modules and the lower the cost of sales.
In 2015, Yingli Solar (YGE) produced next-generation monocrystalline PV cells with an average cell conversion efficiency rate of 20.5% on its PANDA project commercial production lines. According to company filings, Yingli Solar achieved a record-high solar (TAN) cell conversion efficiency of 21.5% in the lab.
Yingli Solar's R&D (research and development) expenditure came in at $61.3 million in 2015 compared to $92.5 million in 2014. Yingli Solar spends the majority of its R&D expenditure on the enhancement of its products and manufacturing processes.
Article continues below advertisement
Yingli Solar's capacity utilization
Capacity utilization is one of the key operating metrics that can have a significant impact on a company's cost of sales. Lower capacity utilization implies higher fixed costs per module produced.
For 2015, Yingli Solar reported the lowest capacity utilization among its peers Trina Solar (TSL), Canadian Solar (CSIQ), and First Solar (FSLR). Moreover, the company reported a significant fall in capacity utilization from 2014. Yingli Solar's capacity utilization came in at 61.2% in 2015 compared to 84.0% in 2014.
According to company filings, tight cash flow conditions led to the lower-than-expected utilization of certain production facilities in 2015. This impacted the overall capacity utilization of the company in 2015.
Adjusted EBITDA
Higher adjusted EBITDA (earnings before interest, taxes, depreciation, and amortization) implies higher income from the company's ongoing operations.
Yingli Solar's adjusted EBITDA came in at -$484 million in 2015 as compared to $193 million in 2014. The sharp fall in the capacity utilization led to lower shipments for the company in 2015. As a result, Yingli Solar reported lower revenues, which in turn resulted in lower EBITDA for the company. Moreover, the decrease in the average selling price of modules also impacted the company's 2015 EBITDA.
For 2016, analysts expect Yingli Solar's EBITDA to be around $214 million. The increase in EBITDA on a year-over-year basis is mainly due to an anticipated increase in capacity utilization, which will result in higher module shipments.
In the next part, we'll analyze Yingli Solar's leverage and liquidity position.