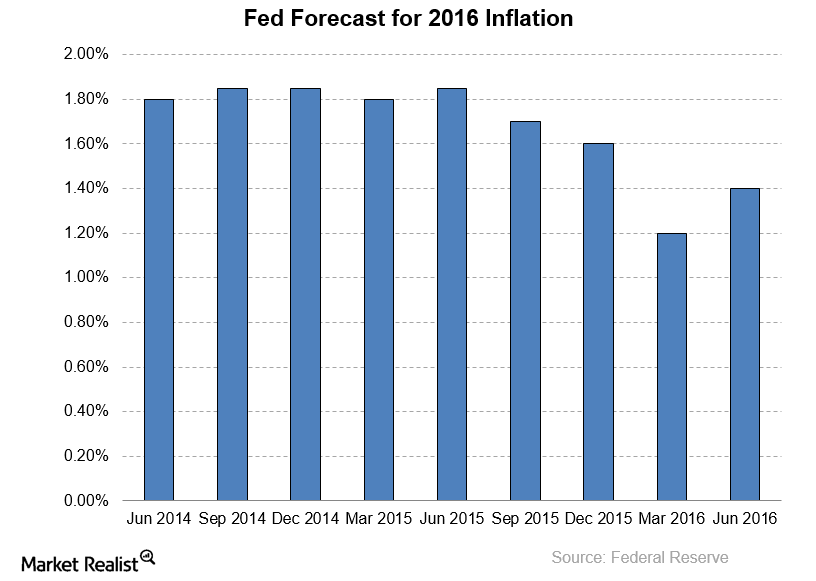 Why Did the Fed Increase Its Inflation Forecast?
Fed uses a different inflation measure
The Fed prefers to use the PCE (personal consumption expenditure) index over the CPI (consumer price index) to guide its decisions—the former measures inflation.
There are a few differences between the two indexes. The PCE index is updated more often. It takes other factors into account such as employer expenditures on healthcare and substitution between goods. The CPI is based on what people say they're buying. It isn't adjusted as often.
As a general rule, the CPI overemphasizes housing while the PCE index overemphasizes healthcare. There just isn't a perfect inflation indicator.
Article continues below advertisement
Fed increased its inflation forecast
Generally speaking, the Fed has been consistently high in its inflation forecasts. In September 2013, the Fed forecast that 2015 inflation would be 1.6%–2%. It ended up coming in at 0.4%.
At the June 2016 FOMC meeting, the Fed took up its 2016 inflation forecast from 1.6% to 1.7%. The Fed may be taking the view that energy prices have bottomed. Despite commodity price volatility, we probably won't see much inflation until wages pick up. The last few jobs reports show that wages are rising modestly although it's increasing.
Inflation has consistently run below the Fed's 2% target. However, the Fed views the effects of the dollar and low commodity prices as transitory. Of course, if the Chinese economy implodes, inflation will probably remain muted.
Implications for mortgage REITs
For REITs like Annaly Capital Management (NLY), American Capital Agency (AGNC), MFA Financial (MFA), Hatteras Financial (HTS), and Two Harbors Investment (TWO), low inflation means that the Fed has the freedom to keep interest rates low. Low inflation gives the Fed some wiggle room to raise rates in a gradual fashion.
Investors interested in making directional bets on interest rates can consider the iShares 20+ Year Treasury Bond ETF (TLT). Investors interested in trading in the mortgage REIT sector through an ETF can look at the iShares Mortgage Real Estate Capped ETF (REM).