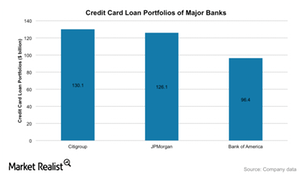 How Would Rising Charge-Offs Impact Major Banks' Earnings?
By Rebecca Keats

Dec. 4 2020, Updated 10:53 a.m. ET
Banks and their credit card loans
Large banks (XLF) have been focusing on their consumer banking business to offset losses from their trading and investment banking segments in the last two quarters. Credit card business fuelled earnings growth in the last few quarters.
Consumer credit growth is a positive indicator towards consumer spending power. To make the most of growing consumer spending, major banks have been focusing on their consumer banking business. They're lending out more consumer loans that carry high interest rates. Bank of America (BAC), JPMorgan Chase (JPM), Wells Fargo (WFC), and Citigroup (C) are aiming to extend more credit card loans. They're competing to expand their card businesses. They lend out to riskier borrowers at the cost of loose underwriting policies. Banks with a large proportion of credit card loans are at risk due to expectations of rising defaults on these loans. Although defaults at these banks are currently low, they're expected to rise.
Article continues below advertisement
US banks' charge-off rates are expected to rise
US credit card net charge-offs among banks increased to 3.10% in the first quarter from 3% a year earlier—the first year-over-year increase for the quarter since 2010, according to the Fed. Also, JPMorgan Chase's CEO Jamie Dimon mentioned that he expects the net charge-off rate on credit card loans to rise to 3.5%. In 1Q16, the bank reported a net charge-off rate of 2.6%.