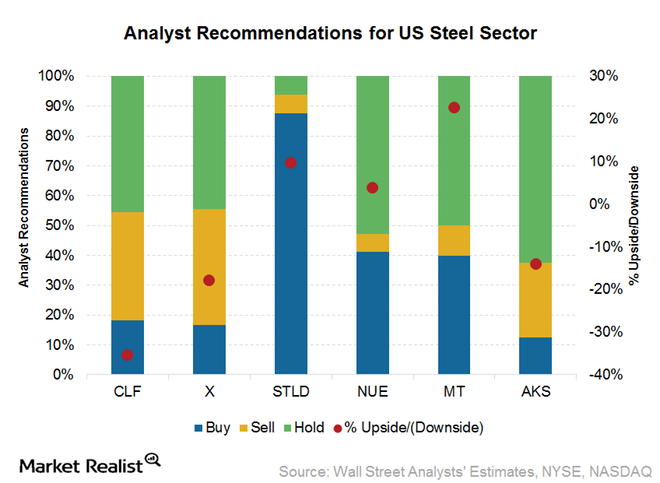 What Could Lead to Further Upgrades for Cliffs Natural Resources?
By Anuradha Garg

Dec. 4 2020, Updated 10:53 a.m. ET
Are analyst sentiments changing?
Analysts' recommendations and ratings are one of the most important market sentiment indicators for investors to look at. Analyst ratings tell you how bullish or bearish analysts are on a particular company or industry. At the extreme, the sentiment could be an indicator of a change in direction going forward. Generally, when everyone is bearish and dumping stocks, it could mean a bottom and better times ahead, and vice versa.
Something similar happened to Cliffs Natural Resources (CLF). It had no "buy" ratings until the end of May 2016. Even though the stock didn't have any "buy" ratings during the first five months of the year, the stock gained a staggering 156% year-to-date.
Now it has two "buy" ratings. Of the 11 analysts covering the company, six have given it a "hold" recommendation and four have recommended a "sell."
The average target price for CLF is $3.4 compared to its current market price of $4.9. The target price still implies a downside potential of 30%.
Macquarie has the highest target price for Cliffs at $7.50. Credit Suisse (CS) and Clarkson Securities have given the stock the lowest target price of $1.
Article continues below advertisement
Recent upgrades
On May 31, 2016, J.P. Morgan (JPM) upgraded Cliffs from "neutral" to "buy." JPM was positive about the upside to Cliffs's price due to improving US (VTI) (DIA) steel prices.
This upgrade of CLF stock could be the first in a series of upgrades to come. Macquarie upgraded Cliffs from "neutral" to "buy" on June 10, 2016. It also increased the stock's target price from $4.00 to $7.50. It believes Cliffs's earnings should be supported by higher US steel prices and volumes. On June 17, 2016, Macquarie reiterated its "buy" recommendation for the stock.
Next catalyst
Cliffs is due to announce its 2Q16 results in late July or early August. Any upward revision to the volumes or realized price guidance for its US iron ore segment could prompt analysts to increase their estimates. After that, analysts could be looking for a growth-focused announcement from Cliffs. The venturing into DRI (direct reduced iron) could be such a catalyst that could lead analysts to upgrade their long-term estimates.