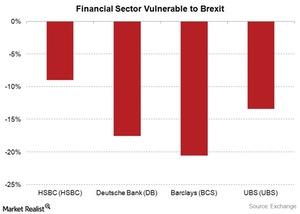 Ray Dalio's Bridgewater Associates Has Something Interesting to Say about Brexit
By Surbhi Jain

Nov. 22 2019, Updated 7:20 a.m. ET
Bridgewater fears contagion
The world's largest hedge fund, Bridgewater Associates, which is managed by billionaire investor Ray Dalio, sent a note to its clients warning that a Brexit win could lead to contagion in other European countries. The UK's (EWU) decision to exit the European Union (EFA) (FEZ) via referendum held on June 23, 2016, could cause other EU member nations to follow suit.
Bridgewater's co-CIO (Chief Information Officer), Greg Jensen, wrote in the note that "the UK voting to leave the EU is a clear warning signal that the rise in populist/separatist positions has reached levels that they can change the status quo significantly."
Article continues below advertisement
The reeling financial sector
Membership to the EU encompasses free movement of goods, services, workers, and capital among member nations. Exiting the EU could translate to huge capital outflows, affecting all major sectors—particularly the financial sector.
The financial sector in the UK remains most vulnerable to the repercussions of a Brexit. Investors in international banks in the UK, such as HSBC (HSBC), Deutsche Bank (DB), Barclays (BCS), and UBS Group (UBS), should become wary of their holdings. When markets closed on June 24, HSBC had fallen by 9%, DB had sunk by 17.5%, BCS had plummeted by 20.5%, UBS had shed 13.4% in their NYSE trading.
The stability of Eurozone economies and the pound are of course important to the global (ACWI) (VEA) economy and the financial system. The UK's Brexit decision resulted in a 10% swing in the pound, affecting major investment flows and heightening the risk exposure to portfolios exposed to the currency. But as banks in Europe and the UK bled losses, some hedge fund managers gained from the pound's decline.
Continue to the next part for more.