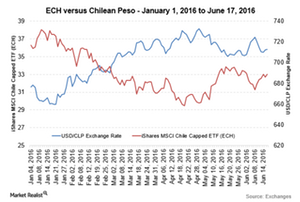 Central Bank of Chile Keeps Rates Constant, Monitors Inflation Levels
By David Meyer

Jun. 20 2016, Published 10:26 p.m. ET
Central bank of Chile keeps rates on hold
The Central Bank of Chile (ECH) kept its interest rates constant at 3.5% on June 17. However, it kept the doors open for further rate hikes if inflation rates remain above the target level of 2%–4%.
The central bank had increased interest rates by 50 basis points toward the end of 2015 to ease inflation rates. However, with slow growth in the copper sector, there has been a reluctance to tighten the monetary policy further. Also, the Fed's decision to keep rates unchanged has increased the scope for central banks in emerging market economies to keep rates low without worrying about potential outflows from equity markets.
Article continues below advertisement
Colombian data releases turn positive
Among other Latin American (ILF) economies, industrial production in Colombia released at 8.4% on an annual basis on June 17 in April, much higher than a 1.4% rise in the previous month and beyond the expectations of a 7.0% rise.
Retail sales rose on an annual basis by 5.4% in April, compared to a contraction of 2.9% in May and estimated forecasts of 4.0% this month. Consumer confidence for Colombia also increased to -12.5% in May from -13% in the previous month.
Retail sales increases in Argentina
Among other emerging markets (EEMV), April's retail sales in Argentina rose by 41.4% on June 17, compared to a 23.3% increase in March. Higher sales in food courts, toy stores, and home appliances primarily drove the increase.