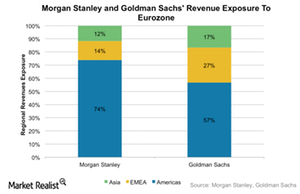 Banks That Look Riskier in the Brexit Aftermath
The riskiest banks to invest in
Banks with significant exposure to the United Kingdom and the European Union are the riskiest investments in a post-Brexit environment. These include Goldman Sachs (GS), JPMorgan Chase (JPM), and Morgan Stanley (MS). Citigroup and Bank of America (BAC) also have substantial risk exposure to these regions.
Goldman Sachs generated about a fifth of its revenue from operations in the United Kingdom where it employs 1,600 people. If European Union leaders shift their Eurozone securities and currency trading from the London Stock Exchange to other exchanges in the Eurozone, Goldman Sachs stands to face a massive loss of business or an expensive reorganization.
Article continues below advertisement
JPMorgan Chase is relatively more diversified than Goldman Sachs but still has considerable exposure to the United Kingdom. Outside the United States, the bank's largest exposure is to the United Kingdom. Similarly, Morgan Stanley, Citigroup, and Bank of America have considerable exposure to the United Kingdom in terms of sales and trading revenues. Their bases of Eurozone operations are in London.
Earnings impact
Brokerage firm Keefe, Bruyette & Woods (KBW) estimates that earnings of US banks (XLF) could be hit by 1%–6% in 2016 following the Brexit. In 2017, it expects earnings to be lower by 2%–9%. KBW forecasts Morgan Stanley's (MS) earnings per share for 2017 to fall by 9%. It projects Goldman Sachs, JP Morgan Chase, Bank of America, and Citigroup to decline 8%, 7%, 6%, and 5%, respectively.
As such, these banks are considered riskier investments in the Brexit aftermath. Many investors will choose to wait until the uncertainty clears before taking any new positions in these banks.
In the final part of our series, we'll look at banks with investor value in a post-Brexit world.