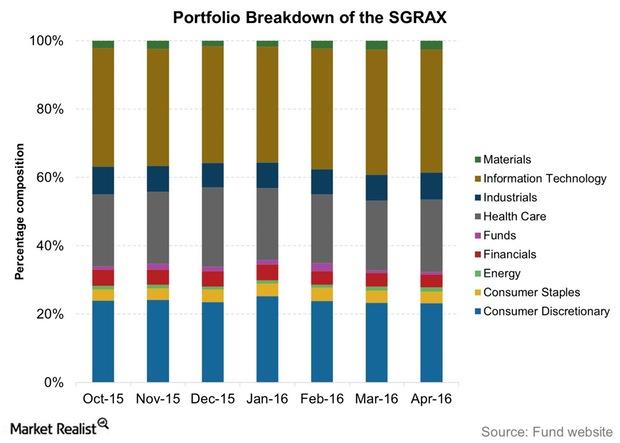 A Review of SGRAX's Portfolio Changes
SGRAX overview
The Wells Fargo Growth Fund Class A (SGRAX) invests at least 80% of its assets in equities and up to 25% in foreign issuers' equities via depository receipts and similar vehicles. The fund is able to invest across market capitalizations, and it targets companies with robust, sustainable earnings and revenue growth prospects.
The fund's managers focus on those companies that "dominate their market, are establishing new markets or are undergoing dynamic change." Bottom-up research lies at the core of management's identifying companies "with under-appreciated prospects for robust and sustainable growth in earnings and revenue." The fund is closed to new investors.
Article continues below advertisement
Portfolio changes in SGRAX
For this analysis, we will be considering SGRAX's holdings as of March 2016, as that is the latest available sectoral breakdown. The fund's holdings after March reflect valuation-driven changes to its portfolio, not its actual holdings.
Information technology, consumer discretionary, and healthcare are the core sectors in which the fund invests. The three combined form nearly 80% of the portfolio. Except for these three, no other sector forms 10% or more of the fund's assets.
Over the course of the past year leading up to April, the fund's management has increased its exposure to the information technology, healthcare, and consumer discretionary sectors. At the same time, its management has reduced its exposure to the consumer staples, energy, financials, and industrials sectors. The fund's portfolio turnover is slightly on the high side.
Has this portfolio composition helped the fund's performance in 2016? We'll explore this in the next article.