The Fed's discussion of the labor market
After the March FOMC meeting, the Fed forecast that 2016 unemployment would come in at 4.6%–4.8%, unchanged from its December 2015 forecast. There was no update to forecasts at the April meeting.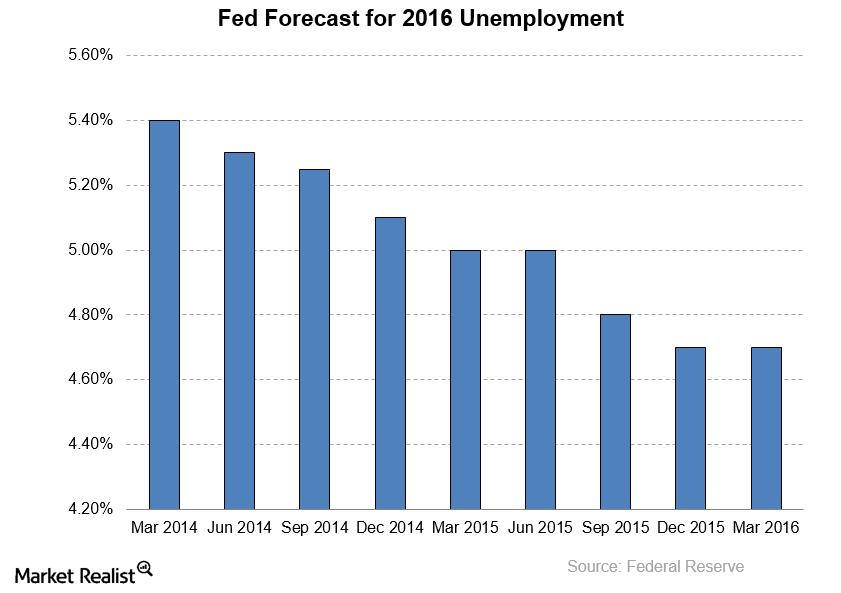 The Fed's staff economists noted that the labor market continued to improve in the first quarter. The staff characterized March job growth as solid, while noting that unemployment edged up. However, several indicators such as the employment-population ratio and the labor force participation rate rose.
Increases in compensation continued to be modest, and compensation rose ~2.3% over the past four quarters. Given the increase in inflation has been much less, we're seeing real wage growth again.
Fed participants (various people from the staff) noted the improvement in the labor market, even as growth in economic activity has slowed. That said, the labor market has some strange numbers. Unemployment remains low, yet the labor force participation rate is just off its 40-year low.
There was some debate on how much slack was left in the labor market. Some believe that we've used up almost all of the slack in the labor market, while others believe we have further to go to get to full employment. Historically, the Fed has used 5%–5.5% as a rule of thumb for full employment.
Article continues below advertisement
Implications for mortgage REITs
Wage inflation is the biggest indicator the Fed is concerned with at the moment. Once it starts seeing evidence of wage inflation, it will start raising rates, and it may do so even before seeing wage inflation. This would be negative for mortgage REITs such as Annaly Capital Management (NLY), American Capital Agency (AGNC), and MFA Financial (MFA). On the other hand, wage inflation is good news for non-agency REITs such as Two Harbors Investment (TWO), as it takes credit risks.
Even if long-term rates are supported by overseas weakness, rises in short-term rates mean higher borrowing costs. This will lower net interest margins and could put pressure on dividends. Investors who want to trade interest rates directly can look at the iShares 20+ Year Treasury Bond ETF (TLT). Investors who want exposure to the financial sector as a whole can look at the S&P SPDR Financial ETF (XLF).
Next, let's look at what the FOMC said about economic growth.