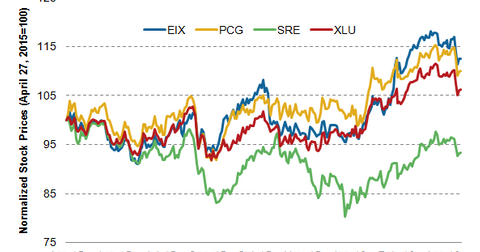 What's in It for Edison International Investors in the Long Term?
By Vineet Kulkarni

Updated
Outlook
Edison International (EIX) forecasts its earnings per share to increase to $3.91 in 2016. With a slightly above industry average earnings growth of 7%, the company believes its dividends will increase at the same rate. However, according to management, its dividend payout ratio is going to be 47% for the next couple of years. That's well below the sector average (XLU)(FUTY). Edison International estimates that its rate base will grow by 8% annually for the next few years, which could significantly drive earnings.
Clarity on matters such as the San Onofre nuclear plant and the Illinois energy bill could bring more certainty to Edison's future path. Now let's have a look at broker recommendations for Edison International for the next one year.
Article continues below advertisement
Price targets
According to Wall Street analyst estimates, Edison International (EIX) has a price target of $73. It's trading at $69 as of April 27, 2016. That implies an estimated upside of 6% in one year.
Of the 21 analysts tracking Edison International, 12 have recommended a "buy," and nine have recommended a "hold." None of the analysts have given EIX a "sell" rating as of April 27, 2016.
Among its peers, Sempra Energy (SRE) has a one-year price target of $115, indicating a possible upside of 14%. It's currently trading at $101. PG&E (PCG) has a possible gain of 7% in the next one year with a price target of $61.20. It's trading at $57 as of April 27, 2016.