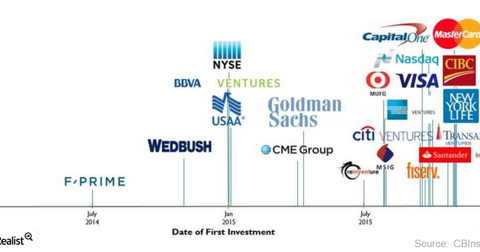 Microsoft Is among the Players Attracted to Blockchain
By Anne Shields

Updated
Blockchain is attracting investments from VCs
Previously in this series, we discussed Microsoft's (MSFT) strategic partnership with R3CV to promote blockchain technology. Microsoft is known for its partnerships with its peers and technology players. VMware (VMW), IBM (IBM), and Dropbox are some of the companies Microsoft has partnered with.
Goldman Sachs (GS) believes that blockchain could be put into use in voting systems, wire fees, firearm purchase background checks, vehicle registrations, and trade settlements. According to CNBC, JPMorgan Chase (JPM) invested approximately $9 billion in the technology space, with a significant focus on blockchain technology.

According to CoinDesk, by July 2015, more than $800 million in investments were made in blockchain-related technology and startups. VC firms like IDG Capital, Boost VC, Khosla Ventures, and Union Square are showing a keen interest in blockchain technology.
Article continues below advertisement
Blockchain technology is perceived to provide significant cost savings
According to CB Insights, although blockchain-based platforms are still in a nascent stage, banks feel that they have the potential to provide significant cost savings over current technologies. Some banks believe that within the next five years, blockchain technology could save approximately $16 billion out of the $54 billion spent on global clearing costs.
David Rutter, CEO of R3CV, feels that the market could see the first commercial deployment of blockchain technology in a year. Shedding further light on blockchain deployment and development, he said that it could take "three to five years until significant commercial adoption."
You may want to consider investing in the PowerShares QQQ Trust, Series 1 ETF (QQQ) to gain exposure to Microsoft, which makes up 8.4% of QQQ. Investors who would like exposure to application software could also consider this ETF. Application software makes up ~28.4% of QQQ.