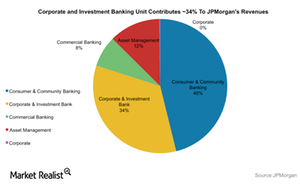 How Were JPMorgan Chase's 1Q16 Earnings?
Earnings review
JPMorgan Chase's (JPM) 1Q16 earnings surpassed investors' expectations. Loan growth and credit quality improved despite weakness from the investment banking business. The company highlighted that lower oil prices and market volatility pressured its earnings during the quarter. The earnings beat points to JPMorgan Chase's core strength—its disciplined cost-cutting initiatives. However, the investment banking unit has been a drag on earnings.
The company reported earnings per share of $1.35—down 5% YoY (year-over-year). Its revenues of $24.1 billion were down 3% compared to last year. This shows the impact of weak financial markets on lower fixed income markets and investment banking fees.
Article continues below advertisement
However, the net interest income was higher—driven by loan growth and the impact of the December rate hike. The non-interest expense was $11.7 billion—down by 7% YoY mainly due to lower corporate and investment banking expenses related to compensation and lower legal expenses during the quarter. The bank doubled provisions for credit losses to $1.8 billion reflecting reserves of $713 million. Of these, $529 million was in the oil & gas sector and $162 million was in the metals and minings sector.
JPMorgan Chase is the first major bank to report its 1Q16 earnings since the Fed hiked interest rates in December. It has a weight of 8.1% in the Financial Select Sector SPDR ETF (XLF) (VFH). Its peers reporting this week are Wells Fargo (WFC), Bank of America (BAC), and Citigroup (C). Morgan Stanley (MS) and Goldman Sachs (GS) are scheduled to report their earnings next week.