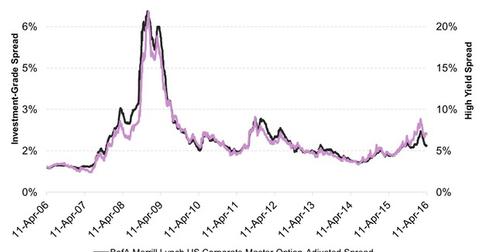 Fear or Greed: What's Driving Fixed Income Right Now?
By David Ashworth

Updated
What are spreads?
Yield spreads are the difference between the yields of two fixed income securities. They can have the same or different credit quality. Spreads are measured in basis points. One basis point is one-hundredth of a percentage point—1.0% = 100 basis points.
If spreads are rising or widening, credit conditions can be assumed to be worsening. Spreads also widen when growth is slow and economic conditions are worsening. Conversely, falling or tightening spreads coincide with faster growth and generally better economic conditions.
Article continues below advertisement
Investment-grade bond spreads
The BofA Merrill Lynch US Corporate Master Option-Adjusted Spread measures the average difference in yields between investment-grade corporate bonds and Treasuries.
In the past ten years, the spread ranged from 0.86% to 6.6%. The latter was in December 2008. Investors were dumping even high or investment-grade bonds. Meanwhile, the former were seen in 2006 when things were fine in the economy. Since December 2008, the spread hasn't fallen below the 1% mark to date.
Investment-grade bond spreads are at their lowest level in April at ~1.7% YTD (year-to-date). They witnessed a YTD high of 2.2% on February 11.
High-yield bond spreads
The BofA Merrill Lynch US High Yield Option-Adjusted Spread measures the average difference in yields between below investment-grade bonds and Treasuries.
In the last ten years, spreads by the aforementioned measure were 2.4%–21.8%. In 2016, the range has been 6.6%–8.9% YTD. For the same period in 2015, the spreads were 4.4%–5.4%.
Observation
Unlike their investment-grade peers (ABNDX) (VCIT), high-yield bond spreads remained elevated in April. The primary reason has been greater caution being exercised by investors. This might be a short-term elevation. If it isn't, investors in high-yield bonds (SJNK) (VWEHX) should be cautious. It means that concerns from equity markets are feeding into these bonds.
For now, the spreads indicate that markets are comfortable in the safety of high-grade and even high-yield bonds to a certain extent. Recently, several well-known high-grade corporate issuers Berkshire Hathaway (BRK.A), Newell Rubbermaid (NWL), Apple (AAPL), and ExxonMobil (XOM) hit the primary bond market. However, if high-yield bond spreads increase for a sizable period, then investors can expect a risk-off sentiment to take over. This will lead to a decrease in investment-grade bond spreads.
Energy prices made headlines for the better part of the last two years. They aren't just impacting inflation and bond yields. They're impacting issuance and yield levels in the high-yield bond market as well. We'll discuss this in the next part.