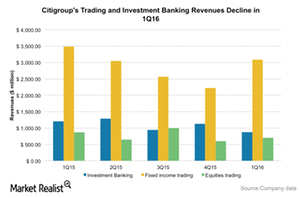 How Were Citigroup's 1Q16 Trading and Investment Banking Revenues?
By Rebecca Keats

Updated
Citigroup's trading and investment banking revenues fell as expected
Traditionally, the first quarter of the year is a strong period for the securities business, as investors tend to place their annual investment strategies in place during this season. However, the volatile markets have kept clients away from issuing debt or equity, launching IPOs, or making acquisitions.
In 1Q16, Citigroup's (C) bond trading revenues fell by 11% to ~$3.1 billion while equity trading revenues fell by 19% year-over-year to $706 million. Bond issuances have been low in the first quarter and levels of activity are down.
Article continues below advertisement
Equity markets
Equity markets have been difficult as well. Citigroup has witnessed a downturn in new issuance levels as well as weak customer activity. This decline was widely expected by analysts covering the banking sector (XLF), as investor activity has remained muted in the last few quarters given the volatile markets. The company expected its trading revenues to fall by 15%, as it mentioned in its guidance issued last month.
Along with major US banks such as Bank of America (BAC), JPMorgan Chase (JPM), and Goldman Sachs (GS), Citigroup has expressed concerns about the quarter's declining trading and investment banking revenues. Let's see how its peers' trading revenues looked during the quarter:
Bank of America's (BAC) trading revenues fell by 15% while investment banking fees fell by 25%.
JPMorgan Chase's (JPM) fixed income trading revenues fell by 13% against expectations of 20%. Its investment banking revenues fell by 24%.
Citigroup's (C) investment banking revenues for the quarter fell by 27% year-over-year to $875 million, slightly higher than its expectations of 25%. The decline was mainly due to low customer issuance of debt and equity.
Dealogic estimates that investment banking fees around the world are down by 36% so far in 2016, compared with the comparable period in 2015. The industry is on track to record the lowest quarterly total of investment banking fees since the apex of the financial crisis at the beginning of 2009. Mergers and acquisitions activity was hit in the first quarter, but Citigroup notes that it expects to recapture some of this activity in the remaining three quarters of the year.