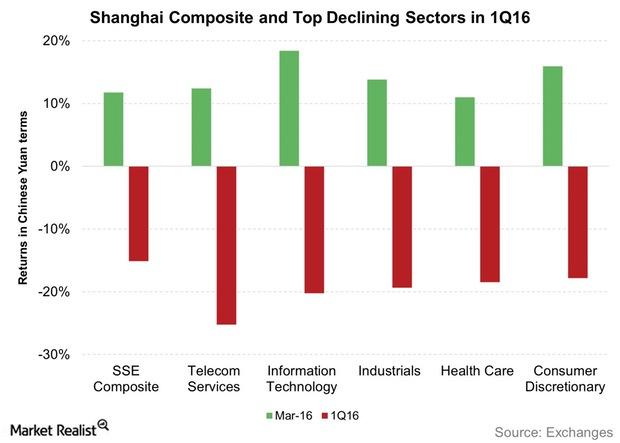 Chinese Stocks Shrug Off Slashed Ratings Outlook
By David Ashworth

Apr. 5 2016, Published 1:24 p.m. ET
Chinese stocks on the decline
China's benchmark equity index, the Shanghai Stock Exchange Composite, has fallen by 15% in 1Q16 in Chinese yuan terms. The returns are not much different in terms of the US dollar, as the index is down by 14.6%. Capital outflows, an economic slowdown, a manufacturing slump, and the yuan's devaluation in order to stimulate the economy have been the primary reasons why Chinese stocks have declined.
Telecom services, information technology, and industrials form part of the benchmark index, and they were down almost 20% each in 1Q16, in terms of total returns.
The latest reason for worries was a cut in the rating outlook of China by two rating agencies: Standard & Poor's and Moody's Investor Service.
Article continues below advertisement
S&P maintained China's sovereign rating at AA-, but it slashed its outlook from "stable" to "negative." The ratings major stated in a note, "We revised the outlook to reflect our expectation that the economic and financial risks to the Chinese government's creditworthiness are gradually increasing."
Meanwhile, Moody's had undertaken the same move earlier in March. The rating agency had pointed to the high levels of debt, declining foreign exchange reserves and capital outflows as reasons for concern. However, Chinese stocks were able to shrug off the cut in the outlook.
Chinese authorities retort
Not one to take such a move lying down, Chinese authorities responded to the outlook cuts. The country's vice finance minister, Shi Yaobin, said in a statement that the agencies "overstate the difficulties China's economy faces, and underestimate our capability to push forward reforms and deal with risks."
The response was an expected one as authority figures from all across the spectrum have been trying to disregard worries about the economy, calling them exaggerated.
However, Chinese stocks remain hurt (LFC) (CTRP) (NTES), as are the funds that invest in them (MCHI) (OBCHX). Before looking at the performance of such funds, let's take a brief look at the macroeconomic situation in China.