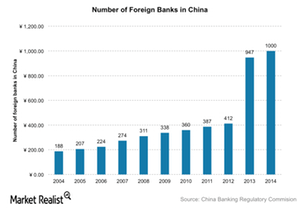 Why Are Western Banks Dumping Investments in China?
By Rebecca Keats

Updated
Western banks are reducing their holdings in Chinese banks
As we saw in the previous part of this series, many Western banks have exited their holdings in Chinese state banks recently. In this part, we'll look at the factors that may have influenced these actions.
In the last decade, foreign banks acquired large stakes in China's banks (FXI) to gain exposure to the growing economy. US banks (XLF) acquired nearly $14 billion worth of stake in Chinese banks from 2002 to 2010, according to Dealogic.
However, tougher regulations and a hostile operating environment have forced foreign banks to sell off their stakes in banks in China. A number of Western banks such as Deutsche Bank (DB), Bank of America (BAC), and Goldman Sachs (GS) have recently sold off their stakes.
Article continues below advertisement
Since the financial crisis of 2009, Chinese regulators have imposed stringent capital requirements for foreign banks holding minority stakes in Chinese banks. This was a hindrance to the efficient functioning of these banks. US banks also realized that the amount of control the stakes gave them over partners and authorities was far less than expected.
Western banks also found it more profitable to exit now as the Chinese economy is slowing and as Chinese banks have been suffering from mounting bad debts and slowing profit growth. Western banks suffered as Chinese banks started competing with them for Chinese clients, often offering much lower fees and better terms.
Most of these investments have been highly profitable for these foreign banks. In the next part, we'll see some of the latest transactions.