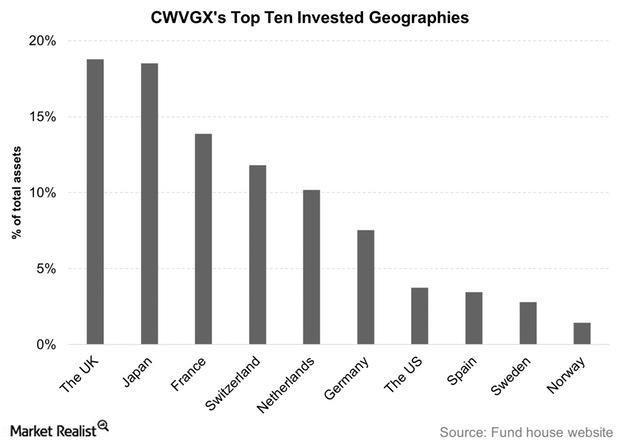 An Investor's Guide to the Calvert International Equity Fund
By David Ashworth

Mar. 10 2016, Updated 11:29 a.m. ET
Calvert International Equity Fund
The Calvert International Equity Fund "invests at least 80% of its net assets, including borrowings for investment purposes, in equity securities of foreign companies." Apart from common stocks, the fund invests in preferred stocks and depositary receipts as well. Fund management looks at non-US large-cap companies whose market caps fit within the range of the MSCI EAFE Index. The fund is managed by Joshua Linder, Christopher Madden, Kurt Moeller, and Jade Huang.
The fund aims to invest in at least three countries and focuses on bottom-up research. It can invest up to 5% of its assets in US stocks. Calvert's comprehensive responsible investment principles guide the investment research processes and decision-making.
Article continues below advertisement
Portfolio composition
According to information provided by the fund house, financials was the single-largest sectoral holding of the fund and formed 23.7% of the portfolio as of January 2016. Healthcare and consumer staples, in that order, were second and third, and formed a combined 30.6% of the portfolio. Compared to the MSCI EAFE Index, the fund was overweight in the healthcare, telecom services, and utilities sectors while being underweight in the financials, consumer discretionary, and industrials sectors, among others.
Stocks from the UK formed 18.8% of the fund's assets for January, making the UK the geography with the highest weight. Japan followed closely, forming 18.5% of the portfolio. France, Switzerland, and the Netherlands, in that order, rounded off the top five countries with the highest weights.
The iShares MSCI EAFE ETF (EFA) was the single largest held security. Nippon Telegraph and Telephone Corporation (NTT), Banco Bilbao Vizcaya Argentaria (BBVA), Mizuho Financial Group (MFG), and Koninklijke Ahold (AHONY) were among the fund's 94 holdings as of the end of January. As of January 2016, the fund was managing assets worth $335.9 million.
Fees and minimums
The Calvert International Equity Fund – Class A (CWVGX) was incepted in July 1992 and has an expense ratio of 1.4%. There is a minimum investment requirement of $2,000 to invest in this fund via Class A shares, and the minimum subsequent investment is $250. The fund can charge a maximum sales charge of 4.8% of the offering price on the purchase of Class A shares.