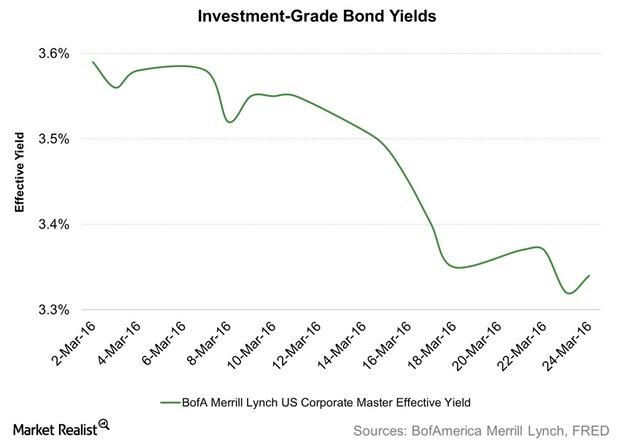 High-Grade Corporate Bonds React to the Fed's March Policy
By David Ashworth

Mar. 28 2016, Published 8:00 a.m. ET
High-grade corporate bonds
Investment-grade bonds, or high-grade corporate bonds, refer to fixed-income issuances with a rating of BBB and above, as provided by credit rating agency Standard & Poor's. The agency uses modifiers "+" and "-" to "show relative standing within the major rating categories." Thus, an issue rated AA+ has a higher standing than another rated AA, which has a better standing than a paper rated AA-. BBB- is the lowest rated paper that is considered investment-grade by Standard & Poor's.
Article continues below advertisement
Yields since the March policy statement
Yields on high-grade corporate bonds, as represented by the BofA Merrill Lynch US Corporate Master Effective Yield, have fallen since the Fed released its March policy statement. Unlike Treasury yields, yields on corporate bonds were falling even before the policy was announced. The BofA Merrill Lynch US Corporate Master Effective Yield stood at 3.49% at the end of the day on March 15. On March 24, it fell 15 basis points from the March 15 level.
Even the spread between high-grade corporate bonds and Treasuries of similar maturity, as measured by the BofA Merrill Lynch US Corporate Master Option-Adjusted Spread, which was at 2% at the beginning of March, fell to 1.7% on March 24.
Implications
The effects of accommodative policy were immediately visible in the primary market for corporate bonds, the market where bonds are first issued before being traded in the secondary market. In the week ending March 18, Newell Rubbermaid (NWL), JPMorgan Chase (JPM), Apple (AAPL), and Anadarko Petroleum Corporation (APC), among a few others, hit the primary market with bond issuances. However, a week later, issuances fell and recorded their lowest level since the week ending February 12.
According to Lipper, inflows worth $1.3 billion were reported in high-grade corporate bond funds for the week ending March 23, making it the third successive week of inflows.
It looks like investors in these instruments had anticipated an accommodative stance by the Fed. A status quo on the federal funds rate was anticipated by nearly everyone, but Treasuries seemed to have been more cautious than high-grade corporate bonds.
Investors in these bonds as well as associated funds (WLTAX) (FPCIX) (LQD) may hold on to their investments, as it seems that credit conditions are becoming better, making it easier for corporations to raise money from the primary market. However, investors in these funds should remain watchful for macroeconomic developments.
In the next part of this series, we'll see how the high yield market has performed since the March 2016 policy announcement.