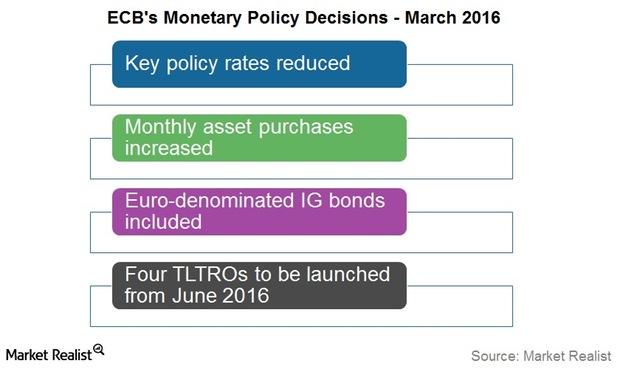 Why Was the ECB Monetary Policy in March Such a Surprise?
By David Ashworth

Mar. 21 2016, Published 12:27 p.m. ET
What's the ECB doing?
Financial markets were in for a surprise on March 10, 2016, the day the ECB (European Central Bank) met. Mario Draghi, chief of the ECB, had already dropped enough hints leading up to the meeting that indicated impending stimulus measures. But even though participants were expecting the ECB to take measures to stoke inflationary pressure in the Eurozone, the announcements at the meeting took most of the participants by surprise. Here are some of the key outcomes of the ECB meeting:
Article continues below advertisement
The ECB will reduce the main refinancing rate and the marginal lending facility rate by 5 basis points each to 0% and 0.25%, respectively. It will push the deposit rate further into negative territory by 10 basis points to -0.4%.
The ECB will raise the quantum of monthly purchases under the APP (asset purchase program) to 80 billion euros, which is 20 billion euros higher than earlier. Eligible international organizations and multilateral banks can buy up to half the quantum, which is up from a third earlier.
Euro-denominated investment-grade corporate bonds were included as eligible assets.
Four TLTROs (targeted longer-term refinancing operations) with a maturity of four years each will be launched, beginning in June 2016.
Financials and banking stocks such as ING Groep (ING), Unicredit SpA (UNCFF), and Deutsche Bank (DB) rose quickly after the policy announcement.
The last ditch attempt?
Participants had wanted the ECB to increase the quantum of its monthly asset purchases in December 2015. The ECB extended the program to March 2017 and beyond, if necessary, but it let the quantum remain unchanged. Not only did it increase the quantum of assets purchases, it also undertook aggressive measures on various rates.
At the same time, Draghi said that key ECB interest rates will remain "at present or lower levels for an extended period of time, and well past the horizon of our net asset purchases."
In this series
The aggressive measures, along with an extended period of low interest rates, have given rise to worries about the state of the Eurozone economy. For retail investors invested in Europe-focused mutual funds (HFEAX) (EGINX), it's time to assess whether or not to rebalance their investments.
In this series, we'll take a look at quantitative measures of 12 Europe-focused mutual funds to give you an idea of how they have performed in the past one year until after the March 2016 monetary policy announcement.
Let's begin our fund-by-fund analysis with the Invesco European Growth Fund – Class A (AEDAX).