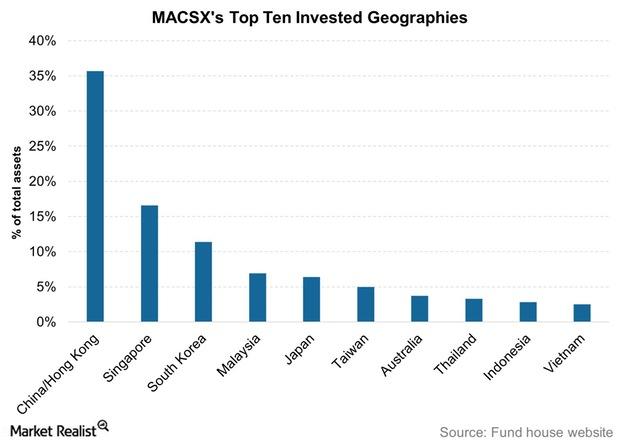 An Overview of MACSX
By David Ashworth

Mar. 8 2016, Updated 8:08 a.m. ET
Matthews Asian Growth and Income Fund
The Matthews Asian Growth and Income Fund (MACSX) aims to invest at least 80% of its assets in "dividend-paying common stock, preferred stock and other equity securities, and convertible securities as well as fixed income securities, of any duration or quality, of companies located in Asia, which consists of all countries and markets in Asia, including developed, emerging, and frontier countries and markets in the Asian region." The fund is managed by Robert J. Horrocks and Kenneth Lowe.
Article continues below advertisement
The fund's dual focus on growth and income generation makes it a bit different from the other funds in this review. The fund's literature says that it attempts to provide some downside protection compared to a fund that's invested purely in common stocks. By investing in convertible bonds and dividend stocks, the fund aims to achieve its investment objective as well as to reduce the volatility of its returns.
Portfolio composition
The top five sectors in which the fund invests have quite even exposures. As stated in the fund's literature, financials is the single largest sectoral holding of the fund, forming 17.8% of its portfolio as of January 2016. It's closely followed by the consumer discretionary and industrials sectors, in that order. The telecom services and consumer staples sectors complete the fund's top five invested sectors.
Article continues below advertisement
Compared to the MSCI AC Asia ex Japan Index, the fund is overweight in the consumer discretionary, consumer staples, telecom services, and industrials sectors. On the other hand, it's sharply underweight in the financials and information technology sectors. The fund is not invested in the materials or energy sectors.
China and Hong Kong combined were the fund's biggest invested geographies in December 2015, making up 35.7% of its assets. Singaporean equities followed, making up 16.6% of the fund's assets. Stocks from South Korea, Malaysia, and Japan rounded off the top five invested geographies. Compared to the aforementioned index, the fund is overweight in Singaporean, Malaysian, Australian, and Vietnamese equities, while it's underweight in Chinese, Hong Kong, South Korean, Taiwanese, and Indian equities.
Yum! Brands (YUM), Japan Tobacco (JAPAY), HSBC Holdings (HSBC), Telekomunikasi Indonesia (TLK), and Chunghwa Telecom Company (CHT) were among the fund's 57 holdings as of December's end 2015. As of January 2016, the fund was managing assets worth $2.8 billion.
Fee and minimums
MACSX has existed since September 1994 and has an expense ratio of 1.1%. You require a minimum of $2,500 to invest in this fund, and a minimum of $100 is required for subsequent investment in this class.
In the next article, we'll look at some of the key metrics of the fund's performance in the one-year period ended February 2016.