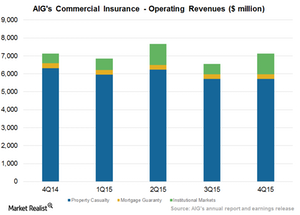 AIG's Commercial Insurance: Will It Post a Profit in 1Q16?
By Robert Karr

Apr. 4 2016, Updated 7:06 a.m. ET
Commercial insurance
American International Group (AIG) reported a pre-tax operating loss of $2.1 billion for its commercial insurance business in 4Q15 compared to a pre-tax operating income of $1.2 billion in 4Q14. The decline was mainly due to a $3.0 billion charge for adverse prior-year loss reserve development in property casualty and lower net investment income in the property casualty and institutional markets. In 1Q16, the loss reserves are expected to be lower with a combined ratio of less than 100.
During the fourth quarter, AIG increased global commercial property limits to $2.5 billion per occurrence from $1.5 billion. This was in response to increased demand for capacity and services from clients managing complex global risks and increasing property values.
AIG grew its book value per share by ~13% during the past year. In comparison, per-share book value growth was ~6% for ACE (ACE), ~6% for Allstate (ALL), and ~8% for Chubb (CB) in the same period.
Investors can gain broad exposure to insurance companies by investing in financial sector ETFs such as the Vanguard Dividend Appreciation ETF (VIG).
Article continues below advertisement
Mortgage guarantee and the Markets
AIG's mortgage guarantee reported a 5% rise to $180 million in pre-tax operating income. It was due to higher underwriting income, partially offset by a fall in investment income. Excluding a one-time benefit from a legal settlement of $24 million in 4Q14, operating income rose by 22%. This was primarily due to the decline in accident year losses from lower delinquency rates and higher cure rates.
Institutional markets' pre-tax operating income fell to $33 million in 4Q15 compared to $118 million in 4Q14. This was mainly due to lower net investment income driven by the negative performances of alternative investments in hedge funds. It was partially offset by higher yield enhancements from a bond call and tender income.
Adverse reserve development
AIG reported a pre-tax operating loss of $2.3 billion for its property and casualty holdings. This was due to higher net adverse loss reserve development and, to a lesser extent, lower net investment income. Its combined ratio rose 58.1 points to 161.5 in the fourth quarter of 2015, reflecting operating losses. The division's loss ratio rose 57.9 points to 132 due to higher severe losses and an increase in current accident year losses in US commercial automobile liability and financial lines. This was partially offset by an improvement in specialty and lower attritional losses in property.
The combined ratio is calculated as the total underwriting expenses of a property and casualty insurer as a percentage of premiums received. A combined ratio below 100% implies an underwriting profit. A ratio above 100% implies a loss.
Next, let's see how AIG is doing in its simplification process.