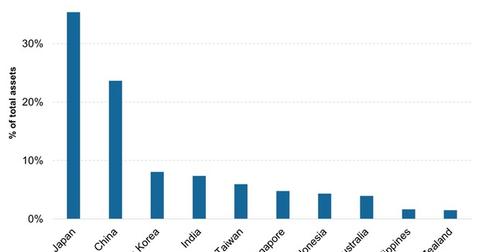 Meet the Wells Fargo Asia Pacific Fund (WFAAX)
By David Ashworth

Updated
Wells Fargo Asia Pacific Fund
The Wells Fargo Asia Pacific Fund (WFAAX) invests at least 80% of its net assets in Asia-Pacific Basin equities. The companies it focuses on include those "with the potential for above-average sales and earnings growth, overall financial strength, competitive advantages, and capable management."
The fund is managed by Anthony Cragg and Alison Shimada, who make use of both top-down, or country-specific, and bottom-up, or stock-specific, research in order narrow down its list of investible securities. Furthermore, managers retain the flexibility in investment style and market cap, aiming to balance between growth and value and large- and small-cap companies, resulting in "core-satellite" portfolio construction.
Article continues below advertisement
Portfolio composition
WFAAX's house data shows that financials is the largest sectoral holding of the fund, making up 29.5% of the portfolio as of December 2015. Industrials and information technology follow, representing a combined 32.5% of fund's assets. Telecom services and consumer discretionary round off the top five invested sectors in WFAAX.
Compared to the MSCI AC Asia-Pacific Index, the fund is overweight industrials, information technology, telecom services, and utilities. It's underweight, however, in the consumer discretionary, consumer staples, materials, and healthcare.
Top invested geographies
Japan and China, in that order, are the top two invested geographies, forming a combined 59% of the fund's assets. South Korea, India, and Taiwan follow, making-up another 21% of the portfolio.
SoftBank Group (SFTBY), PetroChina Company (PTR), Korea Electric Power (KEP), POSCO (PKX), and Advanced Semiconductor Engineering (ASX) were among the fund's 111 holdings as of the end of December. As of January 2016, the fund was managing assets worth nearly $143.5 million.
Fee and minimums
The Wells Fargo Asia-Pacific Fund Class A (WFAAX) has been around since July 2007 and has an expense ratio of ~1.6%. The fund requires a minimum of $1,000 to invest, with $100 as the minimum additional investment. It can levy a maximum sales charge of nearly 5.8% of the offering price of Class A shares.
Now let's look at some key metrics of WFAAX's performance over the past year.