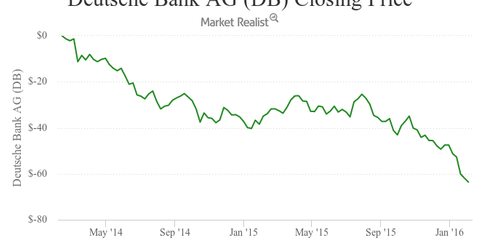 Why Investors Are Nervous About Deutsche Bank's Solvency
By Rebecca Keats

Updated
Shares of Deutsche Bank have been falling
German-based Deutsche Bank's (DB) shares have been on a roller coaster ride since the new CEO (chief executive officer) John Cryan took over. Shares of the company have fallen nearly 30% in 2016 so far, and news that the bank was considering a share buyback has failed to soothe investors who are worried about its ability to make debt repayments.
[marketrealist-chart id=1051022]
On Monday, February 8, 2016, shares of Deutsche Bank fell to fresh lows as the bank's efforts to reassure investors about its ability to pay coupons on its AT1 bonds failed. The bank has 350 million euros of AT1 coupon maturity on April 30, 2016. For 2017, Deutsche Bank said its estimated payment capacity is approximately 4.3 billion euros, excluding any impact from 2016 operating results.
Further, the cost of insuring its debt has been spiking, which is seen as a signal that investors are concerned that it might default on its debt repayments.
Shares of the company have dropped nearly 30% year to date and 46% since its high in July 2015. The stock has been trending downward since it reported two consecutive quarters of losses and underperformed all major US and European banks.
Article continues below advertisement
Deutsche Bank's problems
Deutsche Bank is dealing with the same problems that all European banks (EUFN) such as UBS, Barclays (BCS), Royal Bank of Scotland (RBS), and Credit Suisse (CS) are currently facing. Slowing economic growth along with all-time low interest rates are troubling their lending business, and energy loans are going bad. Stricter regulations mean added legal and compliance costs, which are putting additional pressure on their top line.
In this series, we'll attempt to assess Deutsche Bank's stock performance and the reasons for the sharp correction. We'll also look at why investors are worried about the company and what management is doing to soothe them.