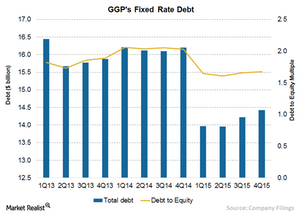 General Growth Properties: Less Borrowing Bodes Well
Fund-raising activities
To lower its effective borrowing costs and extend its maturity profile, General Growth Properties (GGP) was active in unsecured and secured credit markets in fiscal 2015. General Growth Properties obtained $250 million of new fixed-rate debt with a weighted average term to maturity of ten years and a weighted average interest rate of 4.3%. The company also amended its $1.5 billion corporate credit facility to extend its maturity to October 2020.
Article continues below advertisement
Decline in borrowing costs
The total debt of the company increased moderately from $19.91 billion at the end of 4Q14 to $19.93 billion at the end of 4Q15. The fixed-rate debt comprised 85% of the company's total debt, while the remaining is on a variable rate basis. The weighted average interest rate on this debt declined to 4.0% at the end of 4Q15, compared with 4.1% at the end of 4Q14. The weighted average years to maturity also declined from 6.6 years in 4Q14 to 6.1 years in 4Q15.
The decline in borrowing costs on debt bodes well for the company, as it leads to lower interest costs and thereby boosts the earnings of the company. However, if the lingering interest rate hike materializes, then the company's borrowing cost may not see any further decline.
Liquidity levels
For fiscal 2015, General Growth Properties had cash and cash equivalents of $356.9 million, compared with $372.4 million at the end of 4Q14.
The iShares Dow Jones US Real Estate ETF (IYR) invests 2.1% of its portfolio in General Growth Properties. Peers Simon Property Group (SPG), Taubman Centers (TCO), and Macerich (MAC) have weights of 7.1%, 0.5%, and 1.3%, respectively, in the same portfolio. Continue to the next part of this series for a discussion on key takeaways from GGP's conference call.