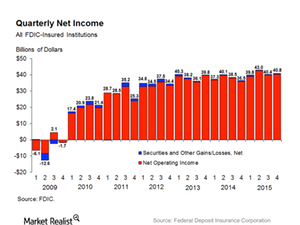 Did Banks' Earnings Grow in 4Q15?
By Rebecca Keats

Dec. 4 2020, Updated 10:53 a.m. ET
Fourth quarter earnings of US banks
The Federal Deposit Insurance Corporation (or FDIC) released its quarterly report on the health of the US banking industry on February 23. The report suggested that fourth quarter bank earnings rose 11.9% year-over-year.
Overall, the banking industry had another positive quarter. "Revenue and earnings were higher than a year ago, loan growth improved, fewer institutions were unprofitable, and the number of banks on the 'Problem List' fell below 200 for the first time in more than seven years. Full-year 2015 results for the industry also showed continued improvement," said FDIC chair Martin Gruenberg. However, he warned of growing interest rate risk and credit risk, particularly related to loans to the energy and agriculture sectors.
Article continues below advertisement
The 6,182 FDIC-insured institutions in the US earned aggregate earnings of $40.8 billion in the fourth quarter, up $4.4 billion compared to 4Q14. A large part of the year-over-year increase in net income is attributable to higher operating revenue and a $2.7 billion decline in operating expenses, specifically litigation expenses. Earnings for community banks grew by 4% year-over-year to $5.1 billion.
56.6% of the FDIC-insured institutions reported a year-over-year rise in 4Q net income while the proportion of banks that reported losses fell to 9.1%, lower than the 9.9% a year ago. This was also the lowest number of banks reporting losses in the fourth quarter since 1996. These numbers illustrate the recovery of US banks (XLF) since the financial crisis. While most large banks like JP Morgan (JPM), Goldman Sachs (GS), BNY Mellon (BK), and Bank of America (BAC) reported disappointing earnings, net incomes were still up year-over-year boosted by lower expenses.
In the next part of the series, we'll analyze expenses and revenues.