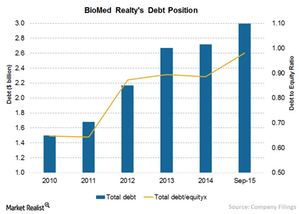 What's Funding BioMed Realty's Acquisitions?
By Peter Barnes

Dec. 4 2020, Updated 10:52 a.m. ET
BioMed Realty's rising debt
As of the end of fiscal 2014, BioMed Realty Trust's (BMR) consolidated debt was $2.7 billion—almost the same as the previous year. Over the past five years, BioMed Realty's total debt has experienced a moderate rise though its debt to equity remained at a comfortable level. The company's total debt increased from $1.5 billion in 2010 to $3 billion as of September 2015.
Article continues below advertisement
BioMed Realty's lower debt-to-equity ratio
BioMed Realty's DE (debt-to-equity) ratio remained lower than 1.0 during the past five years. However, the company's DE inched up to 1.0 as of September 2015, which is same as the industry average. This higher leverage of BioMed Realty in 2015 was due to acquisitions of high yielding properties, which required substantial cash outflows.
A peer group comparison shows that BioMed Realty's DE ratio is in line with most of its competitors. For example, Boston Properties (BXP) reported a DE ratio of 1.2 while SL Green Realty's (SLG) DE ratio was at 1.0. On the other hand, Douglas Emmett (DEI) reported the highest DE ratio at 1.5. The iShares US. Real Estate ETF (IYR) invests approximately 0.6% of its portfolio in BioMed Realty.
High portion of variable-rate debt
As of the end of 3Q15, 56%, or $1.7 billion, of the company's debt was on a fixed-rate basis with an effective interest rate of approximately 4.3%. The company's variable-rate debt made up 44% of its total debt, with an effective interest rate of 1.5%. The total debt had a weighted average interest rate of about 3.2%.
As mentioned above, BioMed Realty had a very large portion of the debt on a floating-rate basis. This doesn't bode well for the company, as a higher percentage of floating-rate debt don't provide any hedge against a rise in interest rates, capitalization rates, or inflation.
In the next part of this series, we'll analyze BioMed Realty's valuation.