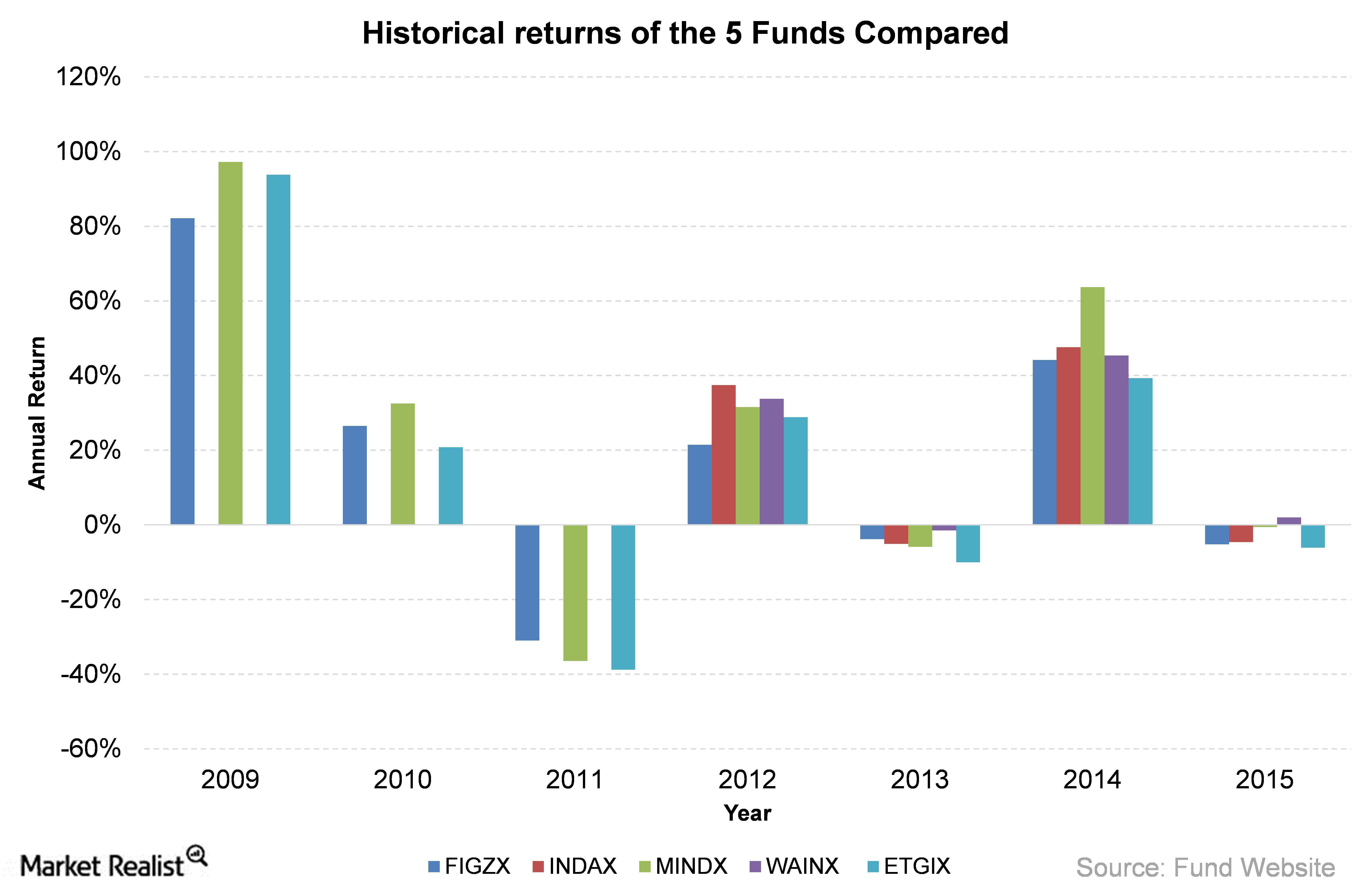 How Does WAINX's Performance Compare to Its Peers?
By Pete Raine

Nov. 20 2020, Updated 1:35 p.m. ET
WAINX and its peers
So far, we've done the structural analysis and returns analysis of the Wasatch Emerging India Fund (WAINX). It would also be helpful to view it in the context of its peers. In this part, we'll compare WAINX to four similar India-focused funds. These include the ALPS Kotak India Growth Fund (INDAX), the Matthews India Fund (MINDX), the Eaton Vance Greater India Fund – Class A (ETGIX), and the Franklin India Growth Fund (FIGZX).
Article continues below advertisement
Comparing the returns
The above graph gives a comparative picture of the returns of the funds for the last seven years. The trend of rises and falls is similar for all the funds. For example, 2009 was the best year, and 2014 was the second-best year for all funds. Similarly, 2011 was the worst year for all funds in existence then. WAINX is a newer fund and came into existence in April 2011. In the following years, WAINX has emerged as second-best in 2012 and 2014 and best in 2013 and 2015.
The above graph compares the returns of the funds over various periods as of the end of 2015. WAINX has given the second-highest returns since its inception. The year 2015 was distressful for the equity market. Its emergence as the best performer in 2015 indicates more defensive stock picks by the fund.
Comparing other factors    
Among the five India-focused funds, WAINX is the newest fund. With 78 holdings, WAINX has the largest portfolio among the five India-focused funds. WAINX has an annual holdings turnover of 36%. MINDX's turnover is 14.9%, which is the lowest among the five funds. The highest turnover belongs to INDAX with 58%. A high turnover indicates the fund being more actively managed. Additionally, a high holdings turnover will lead to a higher expense ratio. WAINX has a total expense ratio of 2.6%, which is second-highest after INDAX.
WAINX has its highest exposure to healthcare (RDY). The other four funds have their highest exposure to financials (IBN) (HDB).
To know more about mutual funds, please follow our Mutual Funds page.