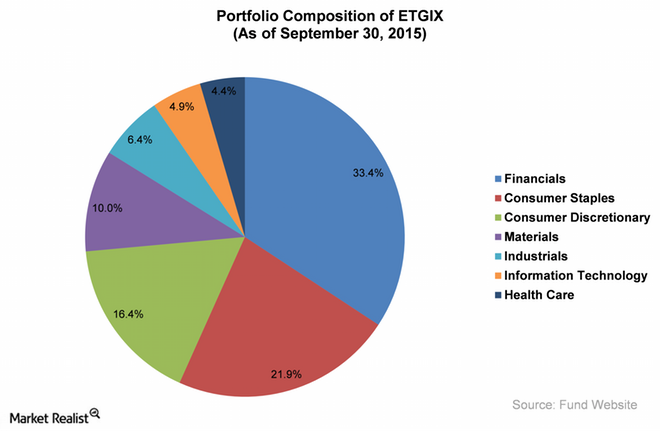 Understanding The Eaton Vance Greater India Fund Portfolio
By Pete Raine

Jan. 26 2016, Updated 7:30 a.m. ET
Introduction
The Eaton Vance Greater India Fund – Class A Fund (ETGIX) invests in Indian equities. ETGIX invests in growth stocks with the aim of long-term capital appreciation. The fund invests in securities across market caps. As of December 31, 2015, the fund had about $245 million in assets under management.
According to portfolio holdings for September 30, 2015, the fund has no investment in the energy, telecommunication services, and utilities sectors. Regarding sectoral exposure, financials have the maximum share, making up 33.4% of the fund's portfolio. Information technology stocks make up 4.9% of its assets.
Compared to other India-focused funds, ETGIX has a small portfolio, comprising only 33 holdings. As of September 30, 2015, the top ten holdings of ETGIX formed 46.8% of the portfolio.
The top ten holdings constitute large-cap companies like ICICI Bank (IBN), which is the largest private sector bank in India. The HDFC Bank (HDB) is a major competitor of IBN. Infosys (INFY) is a major player in the technology domain with a 1.7% weight in ETGIX's portfolio.
Article continues below advertisement
Portfolio compared to benchmark
The chart above compares the portfolio composition of ETGIX with the benchmark index. The S&P BSE 100 is the benchmark index.
Both the fund and the benchmark have financials as their biggest sectoral holding. However, in other sectors, their holdings differ markedly. While the fund invests 21.9% in consumer staples, the benchmark has only 9.7% in the same sector. ETGIX has only 4.9% holdings in information technology (WIT), whereas the benchmark index has 14.8% in information technology. The fund has no exposure to the energy sector, whereas energy forms 8.4% of the benchmark index.
In the next article, we will analyze the performance of ETGIX.