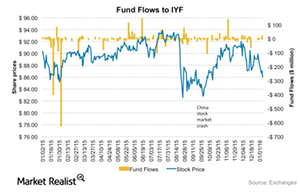 Outflows of $847 Million from the IYF ETF in 2015
By Rebecca Keats

Jan. 26 2016, Updated 7:04 a.m. ET
Fund flows
The iShares US Financials ETF (IYF) recorded net outflows of $847 million in 2015. During December, the fund has witnessed net outflows of $3.4 million. The net flows calculation doesn't include the performance of the ETF but only share redemptions (or outflows) and share purchases (or inflows). Net inflows create excess cash for managers to invest. This, in turn, theoretically creates demand for the ETF's holdings. In 2015, the IYF ETF fell 2.9% and seems to have underperformed the broad markets.
Article continues below advertisement
Institutional investors add exposure to IYF in 3Q15
In the third quarter of 2015, trade activity by 13F filers displayed a 4% fall in aggregate shares held by institutional investors and hedge funds. Among the 139 13F filers holding the stock, 51 funds reduced their exposure to IYF while 23 funds sold all their holdings of the ETF. However, eight funds created new positions, and 43 funds raised their exposure to IYF.
Major institutional holders like FMR LLC (or Fidelity Investments), AssetMark, Morgan Stanley (MS), Bank of America (BAC), and Bank Hapoalim have added IYF to their holdings in the third quarter of 2015.
Meanwhile, institutions like TransAmerica Financial, Pictet Asset Management, United Capital Financial Advisors (UCAP), and LPL Financial (LPLA) significantly reduced their holdings of the IYF ETF.