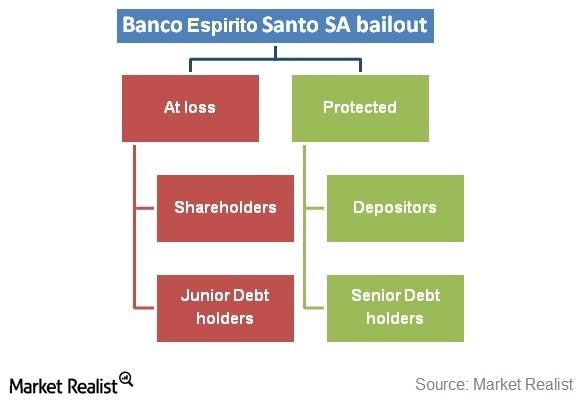 Why Novo Banco Isn't as Good as It Looked
By Surbhi Jain

Jan. 6 2016, Updated 10:24 a.m. ET
Birth of Novo Banco
Novo Banco's birth dates back to mid-2014. Banco Espirito Santo (BKESY) sustained huge losses when Espirito Santo International allegedly defaulted on a debt payment. Banco Espirito Santo is 20% owned by Espirito Santo Financial Group. The lender's largest outside shareholders include France's Credit Agricole SA (CRARY) with a 14.6% stake and Brazil's Banco Bradesco SA (BBD) with a 3.9% holding. Espirito Santo International's default led Banco Espirito Santo to the verge of defaulting on $1 billion worth of junior debt. To learn more, read Must-know: The birth of Novo Banco SA.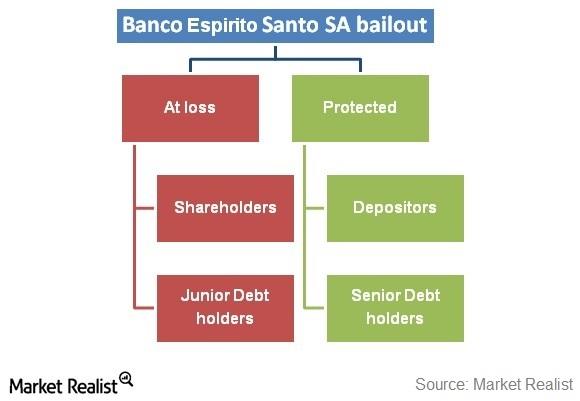 Article continues below advertisement
The "good bank" and the "bad bank"
As a result, the Bank of Portugal stepped in with about ~$6.6 billion as capital insertion. There were certain conditions including that Banco Espirito Santo would be divided into two banks. The Bank of Portugal took control of Banco Espirito Santo's assets and deposit-taking operations by transferring them to a new company—Novo Banco SA, the "good bank"—where it injected money from its Resolution Fund. Meanwhile, Banco Espirito Santo was left with all of the toxic assets, shareholders, and junior debt. It continued to operate as the bad bank.
Accordingly, depositors and senior debt holders that were taken up by the Bank of Portugal in the "good bank," Novo Banco SA, should have fully preserved their dues. However, on December 30, the central bank selected five of the good bank's senior bonds worth a total of 2 billion euros, or $2.1 billion, and reassigned them to the "bad bank"—Banco Espirito Santo.
Move violates the "pari passu" clause
Although the central bank's attempt in doing this was to clear up some stress from the good bank's balance sheet, the markets thought that it was an outright violation of the pari passu clause—a prominent covenant of the bond market. It may set a bad precedence for other prominent banks in Europe. For a country with a debt-to-GDP (gross domestic product) ratio of 97.7%, Spain's Banco Santander (SAN) and Banco Bilbao Vizcaya Argentaria (BBVA) could face some pressure.
The iShares MSCI Spain Capped ETF (EWP) and the Europe Hedged Equity Fund (HEDJ) have invested up to 10.2% and 4.1% of their portfolios in Banco Bilbao Vizcaya Argentaria. Investors in these funds might become wary of their holdings.
Next, we'll discuss the various aspects that could be impacted by the Bank of Portugal's decision.