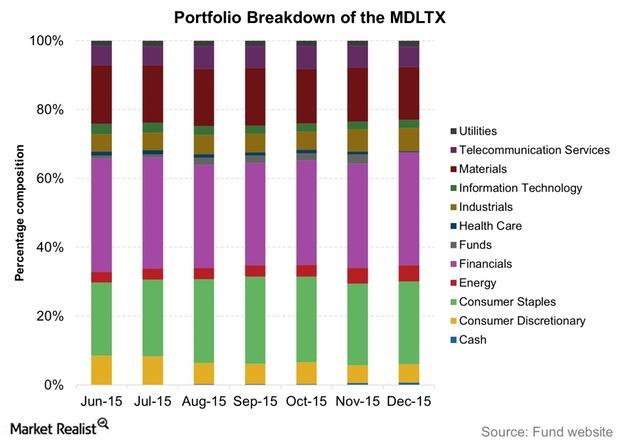 MDLTX: A Fund with a Focus on Financials and Consumer Staples
By David Ashworth

Jan. 29 2016, Updated 7:09 a.m. ET
The BlackRock Latin America Fund
The BlackRock Latin America Fund – A (MDLTX) seeks long-term growth of capital by investing "primarily in Latin American equity and debt securities."
The fund does not seek to spread its portfolio across a large number of countries in Latin America. Both top-down and bottom-up research approaches are used to construct the fund's portfolio. The top-down approach lets the fund manager select potentially outperforming markets while the bottom-up approach helps the manager select individual securities.
Article continues below advertisement
As of December 2015, the fund's assets were invested across 60 holdings and it was managing assets worth $141.6 million. As of November, its equity holdings included Banco Bradesco (BBDO), BRF (BRFS), Southern Copper (SCCO), Telefônica Brasil (VIV), and Petrobras (PBR), which together comprised 13.0% of the fund's portfolio.
Historical portfolios
For this analysis, we'll be considering holdings as of November 2015, as that is the latest available sectoral breakdown. The post-November holdings reflect valuation-driven changes to the portfolio, not the actual holdings.
The fund is invested across all ten sectors. According to its latest portfolio disclosure, the financials and consumer staples sectors are the top two sectors, forming a combined 55% of the fund's assets. Fund management is inclined towards stocks from the materials sector, which is the third-biggest sector the fund is invested in. It is also the only sector, apart from financials and staples, with a portfolio weight in the double digits.
Even though financials enjoy the status of being the sector most invested in, exposure to them decreased over 2015. Falling stock prices and the liquidation of some holdings have been responsible for a reduction of the sector's share in the portfolio. Meanwhile, consumer staples have maintained their share in the portfolio year-over-year. As exposure to these stocks decreased at times and then later increased, it stands nearly unchanged from a year ago.
The same cannot be said about stocks from the consumer discretionary sector, as exposure to them was sharply decreased in 2015. Healthcare is another sector that has seen its share decrease. Did MDLTX's portfolio composition help it cap its fall in 2015? We'll look at that in the next article.