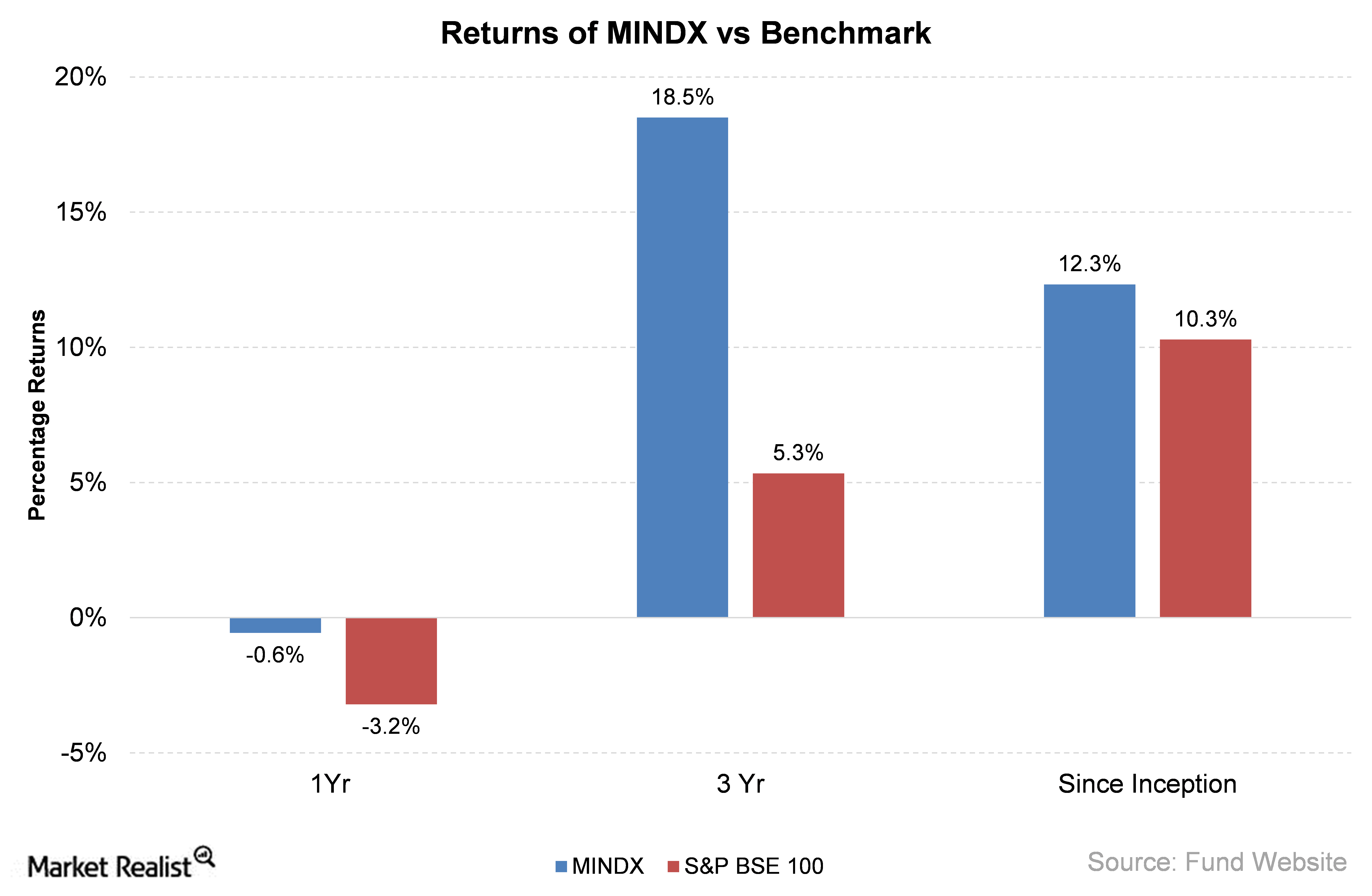 How the Matthews India Fund and Its Holdings Performed in 2015
By Pete Raine

Jan. 16 2016, Published 12:54 a.m. ET
The Matthews India Fund outperformed its benchmark
In 2015, the Matthews India Fund (MINDX) returned -0.56%. The chart below shows the fund's performance in comparison to that of the benchmark index S&P BSE 100. The fund has outperformed the benchmark over all the periods reviewed.
The chart below shows the fund's annual historical returns between 2009–2015. In the past seven years, MINDX had given the best returns in 2009, returning 97.3%. The next highest return was in 2014, with 63.7%.
Article continues below advertisement
Performance breakdown
In the Indian equity market, healthcare was the best-performing sector out of the ten sectors in 2015. This observation comes from the annual returns of the sectoral indexes of the S&P BSE (Bombay Stock Index). We will look at the performance of some of the fund's holdings of the healthcare sector (RDY).
The S&P BSE Healthcare gave a return of 15.6%, in rupee terms. Taro Pharmaceutical Industries (TARO) comprises over 5% of the portfolio and returned 4.8% in 2015. TARO is not an India-based company. However, it is a subsidiary of Sun Pharmaceutical Industries, which is a major player in the pharma sector in India. Sun Pharmaceutical Industries returned -4% over the same period.
Ajanta Pharma, which comprises over 3% of the portfolio, returned a superlative 41% over the same period. Zydus Wellness Group, which forms over 1% of the portfolio, returned 7.2%.
Information technology and consumer discretionary were among the top three sectors. Mindtree Ltd, which forms 4.1% of the portfolio, returned 12.3% in 2015. Cognizant Technology Solutions Corp, which comprises 4.4% of the portfolio, returned about 14%.
The financial sector (HDB), which has the highest composition in the fund's portfolio, was a letdown, as it emerged among the worst three sectors. The S&P BSE Finance returned -5% in 2015.
In the next article, we will introduce another India-focused fund: the Wasatch Emerging India Fund (WAINX).