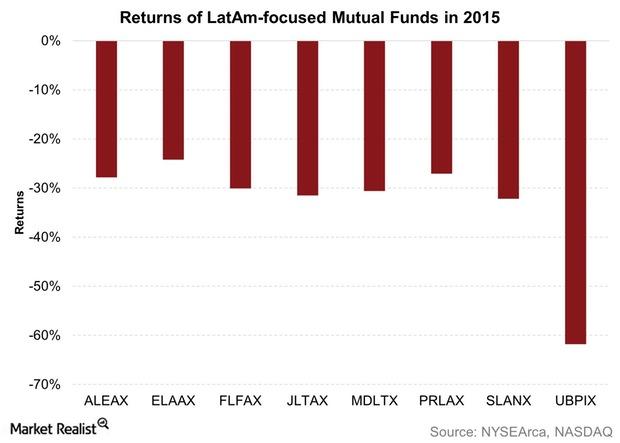 Has Latin America Lost 2016 Already? A Look at Mutual Funds
By David Ashworth

Jan. 27 2016, Published 6:37 p.m. ET
Brazil the main culprit
The IMF (International Monetary Fund), in its January 2016 update to the World Economic Outlook, forecast that Brazil's economy will contract by 3.5% in 2016, which is faster than estimated earlier. This is after the economy shrank by 3.8% in 2015. The agency also said that the economy will stagnate in 2017, whereas it had earlier forecast 2.3% growth in the economy for the year. According to Brazil's Instituto de Pesquisa Econômica Aplicada, this, if it comes about, will be the first time that Brazil's economy contracts by over 3% in two consecutive years since 1901.
Article continues below advertisement
Central bank taking advantage?
Brazil's central bank surprised most market participants when it decided not to hike the SELIC rate on January 21, 2016. The key interest rate, which has been at 14.3% since July 2015, was expected to be raised in the face of rising inflation. Financial markets (CIB) (BSBR) (BBDO) were disappointed with Brazil's central bank's unclear stance. The annualized inflation rate rose to 10.7% mid-January, according to the IPCA-15 index. The central bank's mid-point target range for inflation is 4.5%.
The explanation looked more like an alibi, given the depressing economic projections by the IMF we referred to earlier. Officials had vowed to fight inflation and get it under control by all means necessary. This was their stance leading up to the meeting in January. Two out of eight voting members dissented with the decision, though, as they wanted a rate hike of 50 basis points.
Article continues below advertisement
Inflation problem widespread in Latin America
Brazil is not the only country facing inflation worries. Peru's annualized inflation rose by 4.4% in December—the fastest in four years. In response, the nation's central bank raised its key rate by 25 basis points to 4%.
Meanwhile, the IMF forecast that inflation in Venezuela will skyrocket to 720% in 2016 from 275% in 2015. According to the country's central bank, inflation surged by 141.5% at the end of 3Q15. Colombia's central bank's Adolfo Meisel stated that inflation rose 6.8% in 2015, which is the fastest rise in seven years.
Mexico unharmed for now
Inflation in Mexico rose faster, to 2.5% in the first half of January from 2.3% the previous fortnight. However, it was lower than anticipated. The central bank increased rates in December following the rate hike by the US Federal Reserve.
How have Latin America–focused mutual funds fared?
2015 was horrible for Latin America–focused mutual funds (BDERX) (ELAAX). In this series, we aim to break down the portfolio holdings of eight Latin America–focused mutual funds and see how they've fared in 2015 and their driving factors. In the final part of this series, we'll try to draw up a composite picture for all who are either invested in or are thinking about investing in Latin America through mutual funds. We'll begin our analysis with the Aberdeen Latin American Equity Fund (ALEAX).