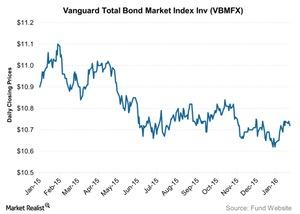 Investment-Grade Bond Yields Rise after the Rebound in Oil Prices
By Lynn Noah

Jan. 26 2016, Updated 4:34 p.m. ET
Investment-grade bond yields as of January 22
Investment-grade bond yields rose in the week ending January 22 after oil prices rebounded above $30 per barrel, which resulted in a broad stock market rally.
Article continues below advertisement
Central banks and policy easing
Meanwhile, inflation in the Eurozone reached 0.2% while the region's target inflation rate was around 2%. ECB (European Central Bank) President Mario Draghi defended the criticism of the ECB's monetary policy by launching a more aggressive monetary policy in a bid to raise inflation. In a news conference held in Frankfurt, Draghi said that "downside risks have increased again amid heightened uncertainty about emerging market economies' growth prospects, volatility in financial and commodity markets, and geopolitical risks." Draghi added that "it will, therefore, be necessary to review and possibly reconsider our monetary policy stance at our next meeting in March."
In the meantime, on the other side of the globe, investors are speculating that the Bank of Japan may announce stimulus measures at its next policy meeting, which is scheduled for January 28–29, 2016.
Economic indicators as of January 20
In other news, the latest CPI (Consumer Price Index) data was released on January 20, and Treasury yields rose after the release of the data. Although the CPI fell by 0.1% on a month-over-month basis in December, it rose by just 0.7% in all of 2015, mainly due to lower gasoline prices, which also led to decreases in the cost of food. Core consumer prices, excluding food and energy prices, rose by 2.1% in 2015.
Article continues below advertisement
Meanwhile, housing starts and building permits data was released on January 20. Housing starts fell by 2.5% on a month-on-month basis to approximately 1.15 million units last month from November's total of approximately 1.18 million units. New building permits also declined by 3.9% month-over-month to 1.23 million units from November's total of about 1.3 million.
Yield movement in the week ending January 22
Corporate bond yields, as measured by the BofA Merrill Lynch US Corporate Master Effective Yield, ended at 3.67% on January 22, which is eight basis point higher than in the previous week.
The Vanguard Total Bond Market Index Fund Investor Class (VBMFX) provides broad exposure to US investment grade bonds. VBMFX invests in the investment-grade corporate bonds of companies like Apple (AAPL), Wal-Mart Stores (WMT), Bank of America Corporation (BAC), AT&T (T), and Oracle Corporation (ORCL). Notably, VBMFX was flat last week.
In this series, we'll look in detail at investment-grade corporate debt issuances in the week ending January 22. Let's start by taking a look at how yields on corporate bonds have fared.