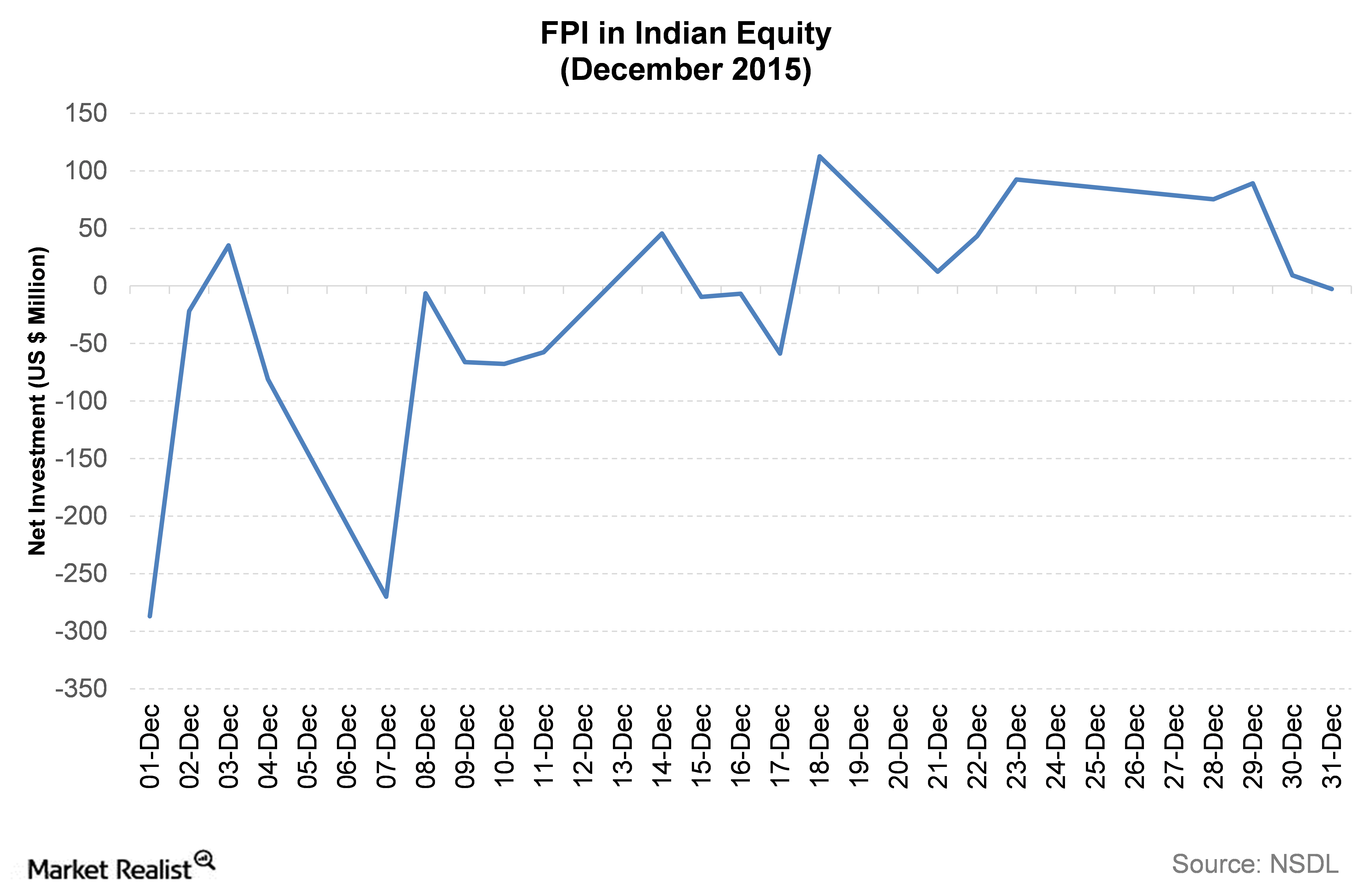 Indian Equity Markets Finished 2015 with an Optimistic Outlook
By Pete Raine

Nov. 20 2020, Updated 3:57 p.m. ET
US Fed rate set the course for 2016
The US Federal Reserve announced its monetary policy on December 16, 2015, and the federal funds interest rate was raised by 25 basis points. In a speech on December 2, 2015, the Federal Reserve chair Janet Yellen noted that the FOMC (Federal Open Market Committee) was comfortable with the economic condition, and there was a possibility of moving toward a normalized interest rate.
The Indian market had already shown signs of the jitters, with the anticipation of the impending rate hike by the Fed. Losses were observed in major Indian stock indexes, the rupee fell against the dollar, and the FPI (foreign portfolio investment) in equities were fleeing India.
Article continues below advertisement
Indian markets resilient after the Fed rate hike
The chart above shows the net investment in FPI in the Indian equity market in December 2015. The market showed volatility in the anticipation of a rate hike by the Fed, bounced back strongly after the rate hike.
The FPI, which was on a losing spree before December 16, came back strongly. Indian stock markets also started gaining. The major Indian benchmark index S&P BSE Sensex, which lost 3.2% from December 1–December 15, 2015, resulted in a gain of 1.8% through December 2015.
The rupee
India's currency, the rupee, has gained strongly against the US dollar since the Fed rate announcement. The chart above shows the exchange rate of the rupee against the dollar for December 2015.
Although 2015 did not prove to be a good year for the India-focused funds, India's macroeconomic numbers have pointed toward their robustness. In the second quarter (July–September) of fiscal 2016, India reported its GDP growth rate at 7.4%. The Indian fiscal year begins in April and ends in March of the following year. India's CAD (current account deficit) contracted to 1.6% of GDP in the second quarter from 2.2% of GDP in the first quarter.
India-focused mutual funds like the Wasatch Emerging India Fund (WAINX) and the Matthews India Fund (MINDX) appreciated in December 2015. WAINX gained 2.4% and MINDX gained 0.72%. Blue chip stocks Infosys Ltd. (INFY), ICICI Bank Ltd. (IBN), and HDFC Bank Ltd. (HDB) also gained in December 2015. 
For more details on mutual funds, please visit the mutual funds page.