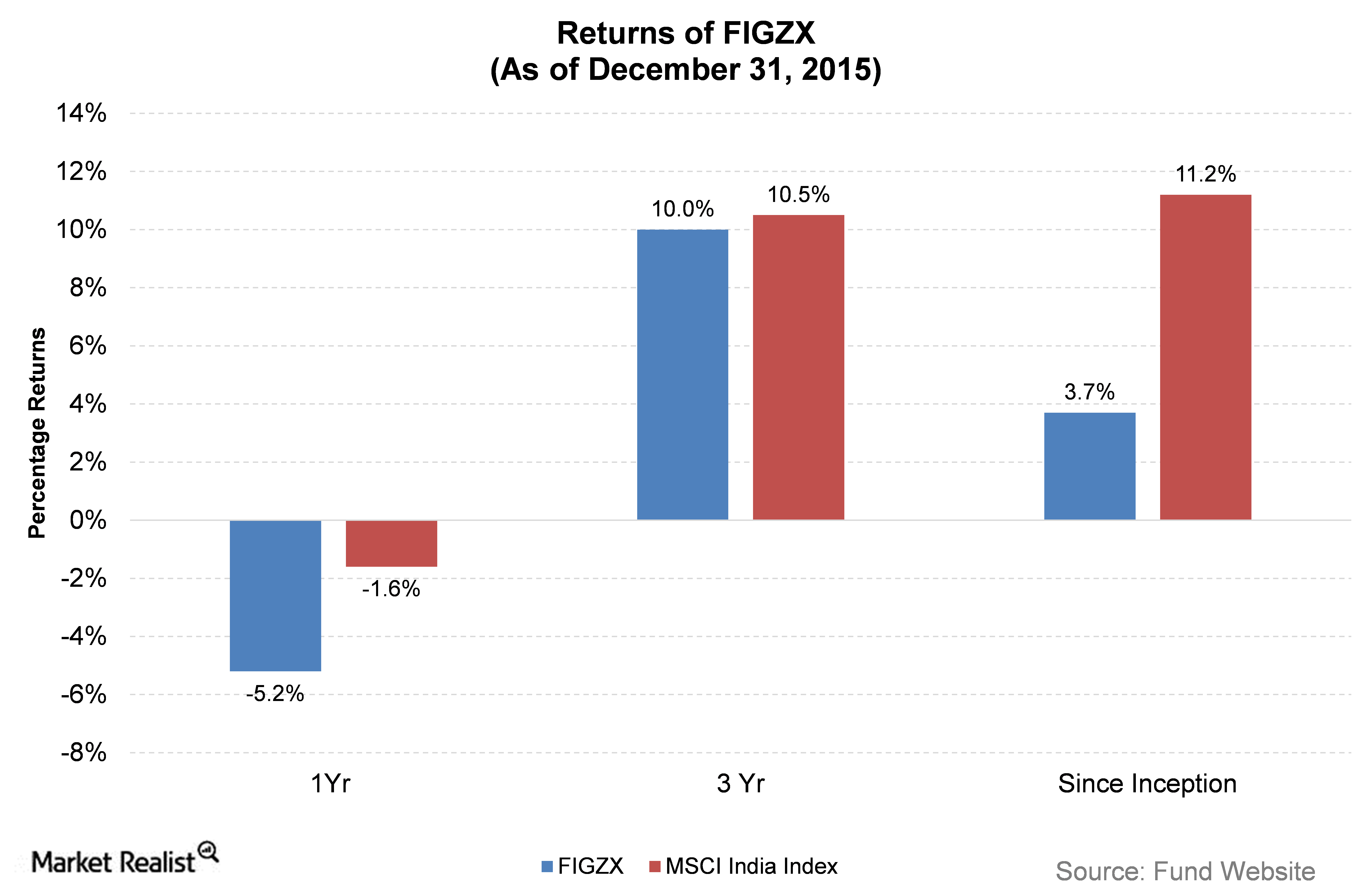 The Franklin India Growth Fund versus the Benchmark in 2015
By Pete Raine

Jan. 16 2016, Updated 1:03 a.m. ET
The returns of FIGZX
The Franklin India Growth Fund (FIGZX) has given a return of -5.2% in 2015. The fund has been in existence since January 2008. On an annual average basis, the fund has returned 3.7% since inception.
The chart below gives a snapshot of the average annual return as compared to the benchmark MSCI India Index. The fund has underperformed the benchmark index over all the periods reviewed.
Article continues below advertisement
Historical returns
The following chart gives a comparison of the historical returns of the fund and that of its benchmark index. The best year for the fund was 2009, with a return of 82%. The MSCI India Index is the fund's benchmark index. The fund has underperformed the benchmark index.
The performance breakdown of FIGZX
In 2015, ETGIX gave a return of -5.2%. HDFC Bank Ltd (HDB), which forms 5.5% of the portfolio, returned 19.2% in 2015. HDB is also the top holding in the portfolio. Infosys Ltd (INFY) forms 5% of the portfolio. INFY gave a return of about 20% in 2015. Tata Motors (TTM), which forms 4.6% of the portfolio holdings, returned a loss of 33% over the same period.
Financials (IBN), which was among the worst performing sectors in 2015, formed the highest composition in FIGZX. The sectoral index S&P BSE Finance returned a loss of 5%. Information technology, healthcare, and consumer discretionary formed a sizeable portion of the fund as well. Together, these three sectors formed 39.5% of the portfolio.
In the S&P BSE sectoral indexes, these three sectors were the top-performing sectors in 2015. The S&P BSE Healthcare Index returned 15.6% . The sectoral indexes of information technology and consumer discretionary gave returns of 6.6% and 8.9%, respectively.
In the next article, we'll analyze the comparative performance of the five India-focused funds.