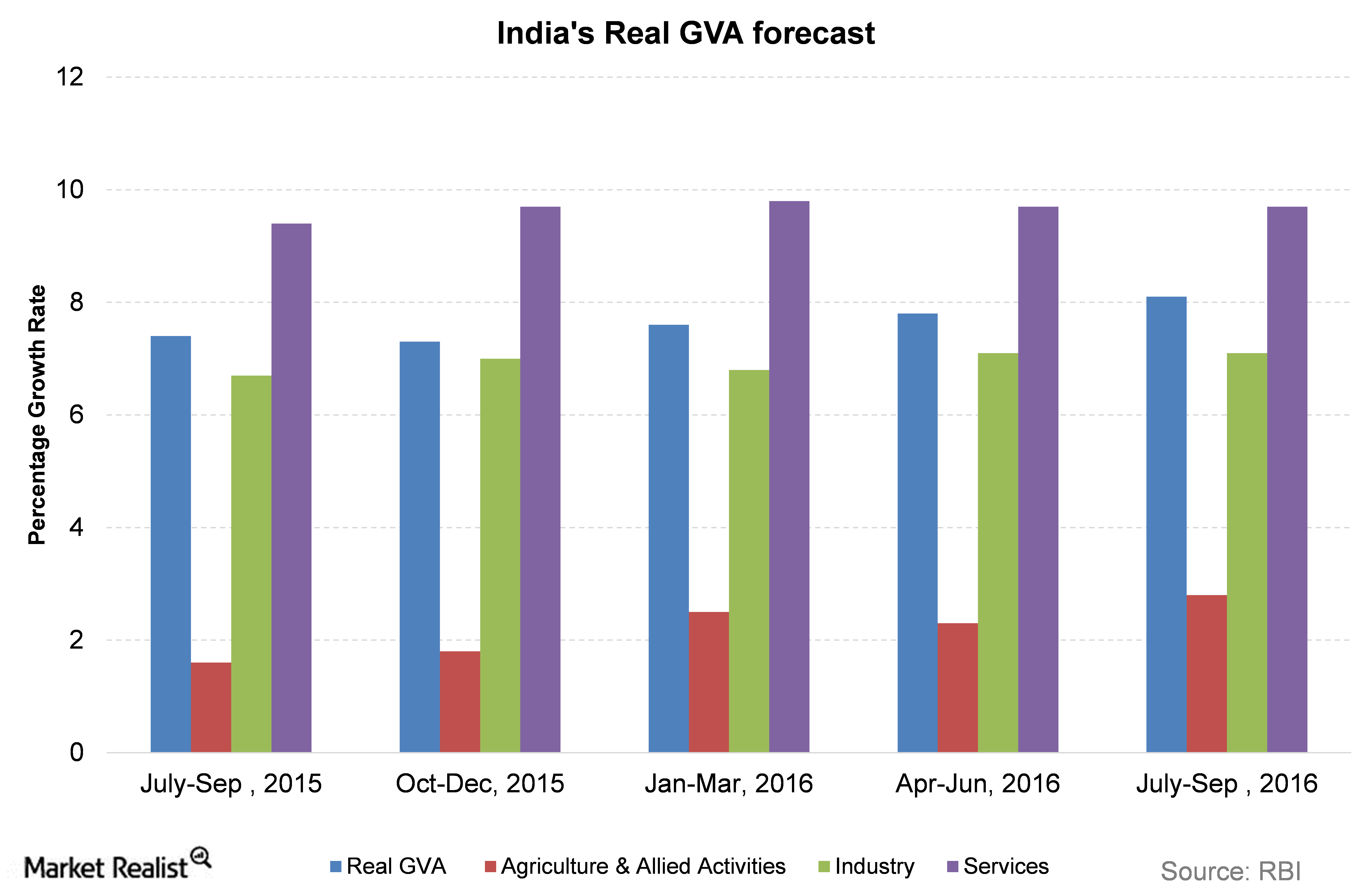 Forecasts Indicate a Strong Indian Macro in 2016
GVA forecasts
With 2015 behind us, we will take a look at the performance so far of the five India-focused mutual funds. To study the prospects of Indian equities in 2016, we will also look at certain macro indicators and the performance of the Indian equity market.
The Reserve Bank of India (or RBI) conducts and publishes the survey of professional forecasters bimonthly. Going by the results of the survey, we would look at the possible growth indicators for 2016. The chart below shows the forecast of India's GVA (gross value added).
Article continues below advertisement
Growth drivers
The Reserve Bank of India released its survey of the forecast of output growth measured by GVA. The RBI expects the real GVA growth rate to improve to 8.1% by the fiscal 2Q17, from the 7.4% of fiscal 2Q16. The industrial sector and the services sector are expected to lead this growth.
Regarding GVA, the industrial sector is expected to grow by 7.1% by the end of fiscal 2Q17. The Indian fiscal year begins in April and ends in the following March. The industrial growth rate in fiscal 2Q16 was estimated to be 6.7%.
Services are the leaders in growth rate. The current growth rate of the sector is 9.4%, which is expected to rise to 9.7%. India's services sector is the biggest contributor to its economy. The services sector contributes over 50% to the nation's GVA.
India-focused nutual funds
The ALPS Kotak India Growth Fund (INDAX) is an India-focused mutual fund (MINDX). We will look at the latest portfolio composition and the performance of INDAX later in this series. The top holdings of INDAX include blue-chip stocks such as Infosys (INFY), HDFC Bank (HDB), Axis Bank, Tata Consultancy Services, ICICI Bank (IBN), and ITC.
In the next article, we will analyze RBI's forecast regarding different inflation measures.