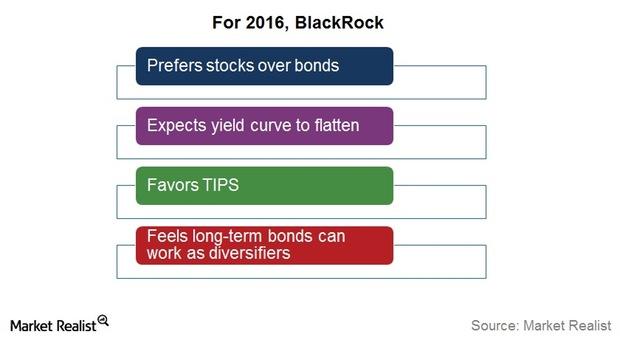 BlackRock Shares Its Views on Fixed-Income Strategy for 2016
By David Ashworth

Nov. 20 2020, Updated 4:52 p.m. ET
BlackRock on rate hikes and yield curve in 2016
Russ Koesterich of BlackRock expects the US Federal Reserve to raise the federal funds rate two to three times in 2016. He expects the 10-Year Treasury note yield to be around 2.3% by the end of 2016. For reference, the yield on the ten-year note stood at 2.1% on January 12, 2016, and ended 2015 at 2.3%.
BlackRock expects a flatter yield curve in the year. In a report titled "Is Your Portfolio Built for 2016?" Koesterich provided an example of why BlackRock thinks yields will remain low even after the Fed has raised rates. He says that the Baby Boomer generation is on the verge of retirement, which will lower the supply and increase the demand for long-term bonds. This will increase the prices of these bonds and, in turn, keep yields low. With short-term yields rising in response to rate hikes, the yield curve will flatten.
Article continues below advertisement
Outlook on fixed income
BlackRock is not upbeat about fixed income in 2016. Its 2016 Investment Outlook states, "We see little or no price appreciation in fixed income." It's more optimistic about stocks than it is about bonds, specifically European and Japanese equities. It feels that US equities are fully valued.
BlackRock views inflation to be sleepy, not dead. Hence, it favors TIPS (Treasury Inflation-Protected Securities). The investment manager offers the BlackRock Inflation Protected Bond Fund Investor A Shares (BPRAX), which provides protection from inflation. A similar product is the Fidelity Inflation-Protected Bond (FINPX).
Though it prefers stocks over fixed-income products for 2016, BlackRock maintains that bonds can be good diversifiers for those investors who have loaded up on stocks. It states that "longer-duration bonds are reasserting their role as an effective ballast to equity risk and can be especially helpful in equity-centric portfolios."
BlackRock also sees "selected high-yield, investment-grade, and hard-currency emerging markets debt" as attractive. It offers the BlackRock Investment Grade Bond Portfolio Investor A Shares (BLADX), a fund invested in the credits of Bank of America (BAC) and Citigroup (C), among others, while its High Yield Bond Portfolio Investor A Shares (BHYAX) is invested in the credits of HCA Holdings (HCA) and TransDigm Group (TDG), among others.
Let's take a more detailed look at investment-grade bonds and related mutual funds in the next article.